Search Results for:
man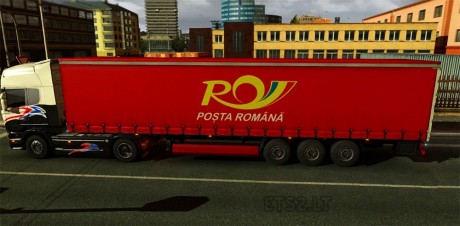 EN: The Romanian Post is the national postal operator in the field of postal offices and is owned by the Romanian state, represented by the Ministry of Communications and Information Technology (75% of the shares) and the Property Fund (25% of the shares).
The Romanian Postal Office performs its activity in the field of postal communications, the main object of activity being the management, development, exploitation of the mailing services and the cooperation with foreign similar organizations in order to internationally fulfil these services according to the provisions of the Ordinance no. 31/2002 approved by the Law no. 642/2002 on the postal services and of the granted licenses or authorizations.
This mod add a nice trailer skin with Posta Romana for ETS 2.
Enjoy!
RO: CN Poşta Română SA este operatorul naţional din domeniul serviciilor poştale şi se află în proprietatea statului român, reprezentat de Ministerul pentru Societatea Informaţională (75 la sută din pachetul de acţiuni) şi Fondul Proprietatea (25 la sută din pachetul de acţiuni).
Poşta Română îşi desfăşoară activitatea în domeniul comunicaţiilor poştale, obiectul principal de activitate fiind administrarea, dezvoltarea, exploatarea serviciilor de poştă şi colaborarea cu organizaţii similare străine în realizarea acestor servicii pe plan internaţional, în conformitate cu prevederile Ordonanţei nr. 31/2002 aprobată prin Legea nr. 642/2002 privind serviciile poştale şi a licenţelor ori autorizaţiilor acordate.
Acest mod adauga un skin reusit cu Posta Romana pentru ETS 2.
Bucurati-va de mod!
Credits:
Ghiorghe404
DOWNLOAD 760 KB
.