Bennekeben's Lowerd RJL Chassis for Scania R & Streamline.
mod version 1.0 – Tested on ETS2 1.18
Created by Bennekeben
It is Not allowed to Re-Upload this mod to other Sharing Platforms.
If u want to share , use the orignal link only.
U need to have RJL's scania r & streamline modifications mod to make this mod work.
Chassis created by RJL.
Reworked by Bennekeben
Created 2 Styles of Lowerd chassis for All Chassis included in his mod.
Also a small extra "
created a few custom mudflaps for the rearbumper.
added the reworked ventyres wheels Red,Black,Blue,White
U can find the chassis in the shop at the chassis section.
Make Sure this mod is Listed below the mod of RJL!
the zzz_ infront of the name should fix this automaticlly if u didnt change the name of the original mod.
if not add more zzzzzz infront of the mods name.
Right-click mod >Select Rename > add more zzzz_ > enter button
Sign up and be a Fan to recieve emails about updates and info and new releases..
Find all my mods @ Http://1manarmyfans.webs.com
Authors: Bennekeben, RJL
DOWNLOAD 277 MB

Tuning, bugfixes, etc. for Scania R & Streamline by RJL. It only works as a complement to RJL mode . It should be placed after his mod . The old version of mod are included in this update.
Changelog:
v2.2
– Backlights "Burger"
– Stickers on side window
– Speakers in doors
– Griffins of doorhandles are moved to a separate slot
– Rework mudflaps slot
– Variants of foglights
– Added slot "Others" to UK interiors
– Some bugfixes
Full list of changes u can find in archive.
Parts: Rjl, 50k, sattan19990, sky76, Matthias, Henki73, V8K-Blaine, pete379jp, vecc21, Bobi27015, ton, Matt_streamline, Igor Nitch, Flemming, Vinzel and etc.
Credits:
Shineslip
DOWNLOAD 121 MB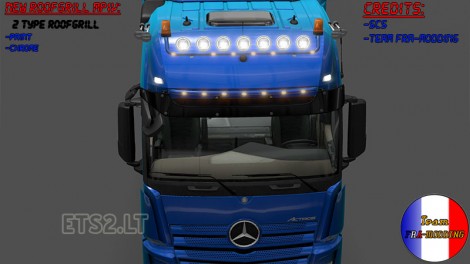 2 type roofgrill:
– Paint
– Chrome
Crédits:
SCS
Team Fra-Modding
DOWNLOAD 0.7 MB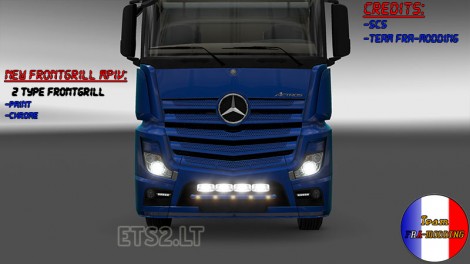 2 type frontgrill
– Chrome
– Paint
Credits:
SCS
Team Fra-Modding
DOWNLOAD 0.5 MB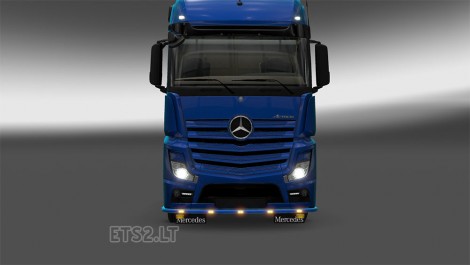 3 type bottomgrill
– Chrome
– Paint
– No bottomgrill
Credits:
SCS
Team Fra-Modding
DOWNLOAD 131 KB
– New Actros 2014 lowered.
– Bugs lights fixed by Badeko.
– Functional bumper lights.
– Dark film on the windshield
Credits by: RPaiva and Badeko.
Credits:
RPaiva and Badeko
DOWNLOAD 31 MB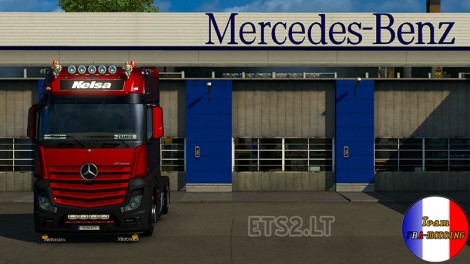 Tested 1.18 beta
Standalone
New bottomgrill
New roofgrill
New frontgrill
New template(inclus)
etc…
Crédits:
SCS
Team Fra-Modding
DOWNLOAD 42 MB