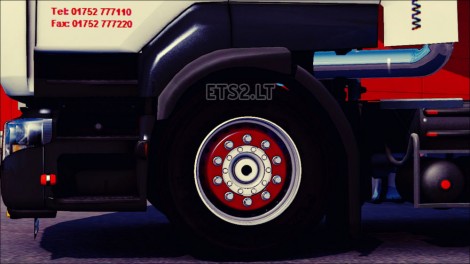 Wheels for all Trucks
Available with 0-th level
Replaces The "Eastern Eagle"
Tested: 1.17.x
Author: Alsatian
DOWNLOAD 8 MB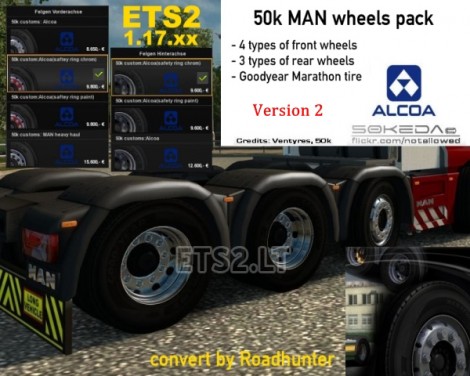 4 x different front wheels
3x different rear wheels
Take first the Rim than the tire
Authors: Ventyres, 50keda, Roadhunter
DOWNLOAD 6 MB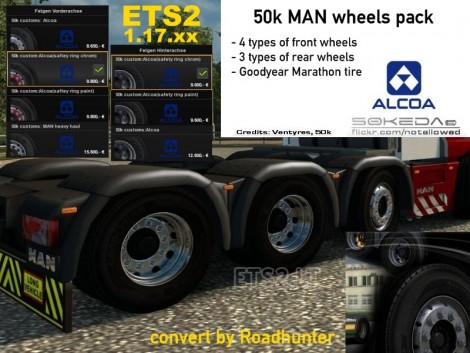 50k Alcoa Wheels only for MAN
4 x different front wheels
3x different rear wheels
take first the Rim…than the tire
Credits:
Ventyres, 50keda, Roadhunter
DOWNLOAD 5.8 MB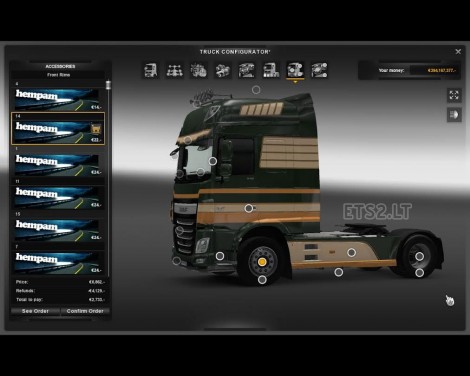 just download and enjoy friends
comin soon with bigger pack
:)
important discussion dont work in 1.16.x
Credits:
aslan808{HEMPAM}
DOWNLOAD 44 MB
– Several bug fixes and minor improvements – mainly for:
– Volvo's FH16 2012/2013
– Scania 4 – new highpipes
– DAF 3600 ATi – now highpipes find in mask_addon not beacon as it was before
– DAF XF
– DAF XF Euro6 – add triple highpipes
– Now support:
– DAF 95 by Vinzel
– Mercedes Benz Actros MP2 V8 by Bogdan Kasalap
– Renault Premium DCI by Ch_Vitalik, Afonya161, vovangt4
– Volvo FH13 by DomantasLT
– Added choices highpipes with and without the side mirror for:
– MAN TGA 18 & ERF ECT by Stas556 & dmitry68
(now highpipes find in side mirror not beacon as it was before)
– Mercedes Antos 1840 by Stas556
– Renault T beta by Stas556 (mirror from FH16 2012 by SCS)
– Scania P340 by Schumi
– Scania R420 by Schumi
– Volvo F10 by Stas556, dmitry68
– Volvo FH12 440 by Dadus & others
– Volvo FH12 440 by Vadik Bezuglyi
– Volvo FH13 2009 by Hempam Group Iranian (mirror from FH16 2009 by SCS)
– Volvo FM13 by kirill73rus
Highpipe find in exhaust (left) – for some models in … see "info.txt"
Tested on 1.16.3.1 – works fine on older versions.
On 1.17.X version will be working without problems.
Mod supports more than 75 trucks.
Full list of supported trucks in "info.txt".
More photos in "Screenshots" folder.
Authors: Drivter, Roadhunter, abasstreppas, Nico2k4
DOWNLOAD 430 MB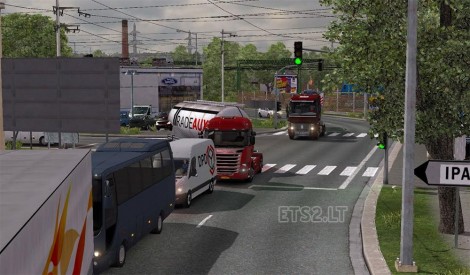 – Exterior and interior sound for gravel and grass (noticable mostly if you drive slowly).
– Interior and exterior sound of a mix of lovely SCREAMING truck gear axles and semitrailer tires.
– It does NOT replace any default or mod engine sound. It just adds background sound, so it should work with any truck, either vanilla or mod.
Credits:
Irreo/Katixa
DOWNLOAD 2 MB
Engine works like Scania Streamline 620 HP Engine
Mod has got new transmission…
If you want to share it,Please Don't Change Link
Credits:
Cesaret020
DOWNLOAD 3 KB