LED Beacon for:
– All SCS Trucks and all reworks
– DAF XF by 50k
– Man TGA by MADster
– Man TGX Euro6 by MADster
– Scania R & Streamline Modifications by RJL
– Scania T by RJL
– SISU R500 by RJL
– Volvo FH Classic by Peerke145
– Volvo FH 2013 by ohaha
– Volvo VNL 670
New in version 1.2:
* Kenworth T800 Final
* Peterbilt 389 Modified
* Scania 1 Series by shoofer
* Scania 143m edit by Ekualizer
Authors: D3S Design, Matgamer
DOWNLOAD 5 MB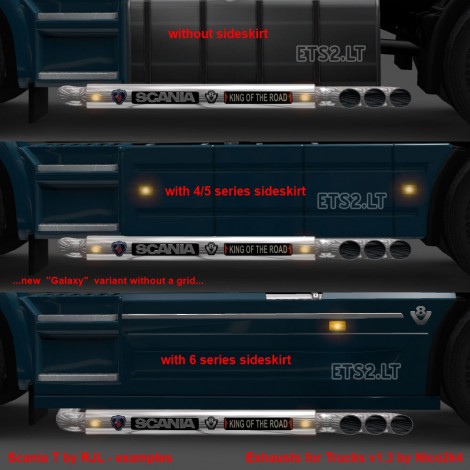 – Added support to DAF XF Euro 6 Heavy Haulage Chassis Addon by Pendragon
– Added variant "up" – if do not use the sideskirt for selected trucks
– Added variant without a grid (v1.1 & v2.1)
– New icons & minor fixes
You can find them in exhaust left and right.
Tested on 1.22.2.6 – works fine on older versions.
…respect download link…
Authors: SCS, Drivter, Nico2k4
DOWNLOAD 32 MB
Engine R230 for SCANIA R and STREAMLINE badges origin of the game creator engine of edit sound and front grill & grid grill.
Credits:
DAVID RAMIREZ
DOWNLOAD 62 KB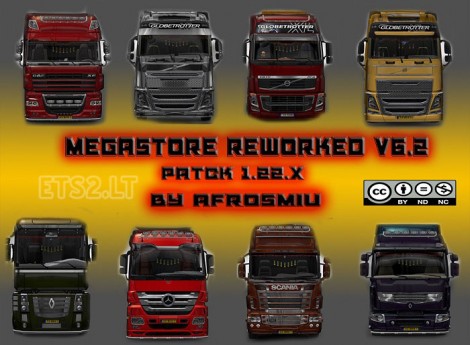 Good day … The new version fixes all files . In this version it was added and the Streamline
compatible V 20.01 01.22 I have not encountered any kind of bug..Funziona with Cabin Accessories
NB Delete previously Megastore 6.1 include this
Autors: Afrosmiu, Kyto, 50keda, ZilpZalp
DOWNLOAD 128 MB
All trucks air conditioning
1.22.x
good game…
Credits:
Petrik, Manu.Be98
DOWNLOAD 19 MB
Tested version 1.22.x
Replaces twister bar for all trucks
* Respect the download link *
Credits: ARS29, pat6234, Fred_be
DOWNLOAD 622 KB