This Interior ist for the Scania R and Streamline.
I have tested it on 1.25
Author: Garry
DOWNLOAD 8 MB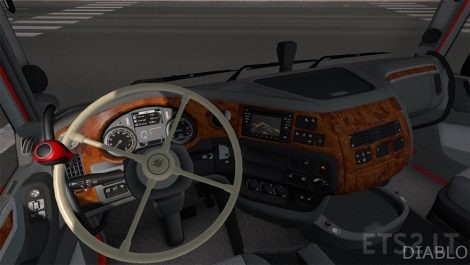 White DAF steering wheel
For ETS2 1.25.
Credits:
Peerke145
DOWNLOAD 1.4 MB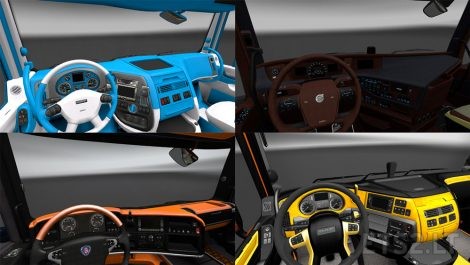 Pack include:
Volvo FH16 2012 Wooden Cream Blue Dashboard
Scania Black Orange Interior
DAF XF Blue White Interior
DAF E6 Yellow Black Interior
All tested and work on 1.25 super!!
ENJOY
Author: Gile004
DOWNLOAD 1 MB
Replace the beige exclusive interior with this pretty good black interior
Author: GeoGal
DOWNLOAD 10 MB
This mod adds support for every official truck to be able to use other official trucks' steering Wheels that has come with patch 1.25.
Basically whichever official truck you are using, you can change your steering wheel to any other truck's wheel.
This mod is for fun who likes mix'n match. Not meant to be taken seriously
REQUIRES: 1.25+
STEAM WORKSHOP: http://steamcommunity.com/sharedfiles/filedetails/?id=759126701
Credits:
SCS, SiSL
This is a full 3D interior for the Scania Rjl 1.5.2
Tested in 1.24
Author: Pcs modding
DOWNLOAD 399 MB