Speedometer on the dashboard of the UK (RHD) interior has been changed to KPH scale for all trucks.
(Excludes Renault trucks and DAF XF euro 6)
[CHANGE LOG] Feb 01, 2015 – Fixed a texture file of Scania R, and added a file for Scania Streamline.
Credits:
SCS Software, pete379jp
Volvo FH16 Interior
Tested 1.16
Credits:
Blackberry
DOWNLOAD 0.3 MB

Bulgarian Interior for Man TGX. Have accessories to chose from
Original interior: daf1
Re-Skin: KINGM
Tested with 1.15v.
Credits:
KINGM; daf1
DOWNLOAD 27.2 MB
Interior for Renault Premium. Standard , exclusive.
Test on version 1.15 s.
Credits:
daf1
DOWNLOAD 29 MB

Version:1.16.x
It can work in older versions
Credits:
furkan61
DOWNLOAD 26.4 MB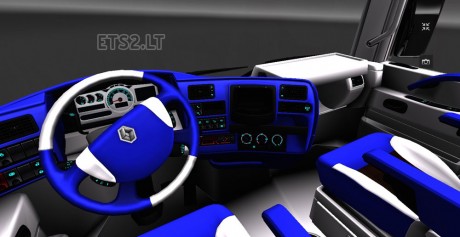 Blue Interior for Renault Magnum Truck
Author: Ficfic
DOWNLOAD 271 KB

Interior for MAN TGX Truck
Tested 1.16 version
Author: alkonavt96
DOWNLOAD 1 MB