This mod adds two new steering wheels to Ohaha's Volvo FH16 2013. These steering wheels have a shiny chrome logo instead of the stock matte logo.
The mod uses the same textures as Ohaha's Volvo so it will work with custom interiors.
Give this mod higher priority than Ohaha's Volvo mod to avoid conflicts.
Please don't reupload and do respect the credits.
Credits:
Capital, Aradeth, Ohaha
DOWNLOAD 463 KB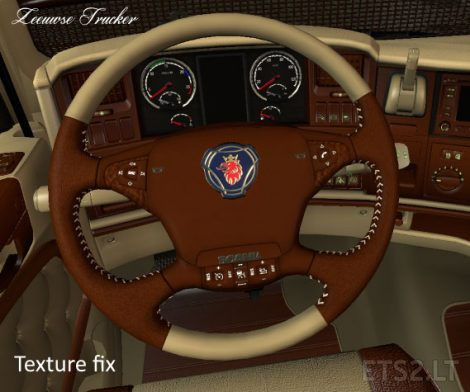 Texture fix for brown leather steering wheel, if you use my latest mod, "zeeuwse_trucker 2.02.rar"
some may have texture fail, place this mod on top. Or if you no how to, open your mod, goto vehicle/truck/upgrade/steering_w/scania_rcab_edit/textures and replace sew_4.dds and sew_4.tobj with the one in this file.
grtz. zeeuwse trucker
Credits:
zeeuwse_trucker
DOWNLOAD 17.5 MB
Hello this is my first interior for ETS 2 I hope that you enjoy.
Tested and works with 1.25 version of the game, share, do not reupload please. Thanks!
3 Interiors:
– Scania R Black Yellow
– Scania R Light Cream
– DAF E6 Red/Black
Author: Miki2424
DOWNLOAD 546 KB Scania R Black Yellow
DOWNLOAD 630 KB Scania R Light Cream
DOWNLOAD 505 KB DAF E6 Red/Black

Mercedes Actros MP4 LUX Wood Interior
Beautifully interior for MB Actros MP4, tested on 1.25 and work super.
ENJOY
Credits:
Gile004
DOWNLOAD 3 MB
Mercedes Actros MP4 Grey Interior
This is for interior I changed color.
Tested on 1.25 work perfect
Credits:
Gile004
DOWNLOAD 607 KB
3 Interiors for Mercedes Actros MP4 Truck:
* Grey Yellow
* Green White
* Grey White
Tested on 1.25 work super
ENJOY
Author: Gile004
DOWNLOAD 2 MB Grey Yellow
DOWNLOAD 1 MB Green White
DOWNLOAD 298 KB Grey White