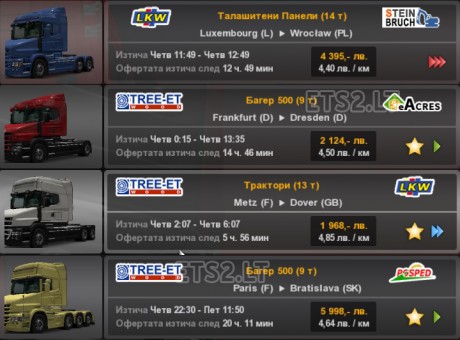 Quick Jobs for Scania T Mod v 1.5.1
This mod added quick jobs for Scania_T_Mod_v1.5.1_by_RJL. Contains five type of chassis (4×2; 6×2/4; 6×4; 8×4*4;10×4*6), with four type of cabins (Normal Spoiler, Highline Spoiler, EXC Topline, Topline).
Author: Pendragon

I made this mod because play mostly Quck Job and i like to drive each time different truck. Each truck has different assortiment of accessories and i tried the trucks, to not very similar.
Truck is not including.
Author: Pendragon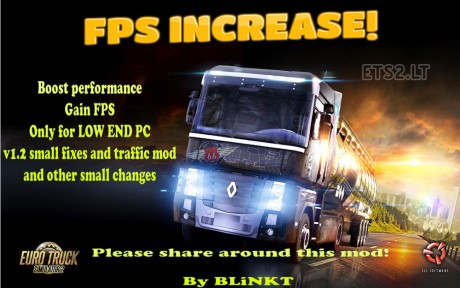 Tested on 1.16.2s version but may work on all version
This mod is only for LOW END PC
With this mod you gain some FPS
Version 1.2
– Small fixes
– Reduced grass details
– Reduced water fov
– Other small changes
– Added traffic mod (reduce traffic ingame)
– Developer console and fps shows as default
Author: BLiNKT
DOWNLOAD 4 KB

Scania R & Streamline Speedometer 160 km/h
Tested 1.16
Credits:
star5
DOWNLOAD 0.7 MB
Mod Maker ver 0.8.4
Edit, Create Mods for ETS 2.
Create .scs file and copy to Game Mod folder
Copy any Mod to Game Mod folder
Create .zip for upload
Extract Base, def and dlc files
Extract community Mods
Internal Editors for all files except .pmd, .pmg . dds
Import files and folders into Mod
Mod Merge with hash and Diffmerge checking
Two different Mod listings – Tree style, List style
Full Help file – Master file is Online so you do not have to upgrade to get latest
More – see features and news at http://haulinmods.com/modmaker
Please post feedback on any issues you find – at Mod Maker Website.
Download and extract installer, uninstall any previous version.
0.8.4 additions
Added New Internal Editor
Added Copy, Cut and Paste to new internal editor
Added Text Highlighting to new internal editor
Added File Delete in right click menu for new internal editor and List style viewer
Added List Refresh for List style viewer
Added Mod Refresh for Main screen
Added a Cargo Creator
Added Log File Viewer
Added ability to edit the AI Traffic
Added Mod Maker Updater
DieHard
Credits:
Raihan Kibria for Frhed Hex editor version 1.6.0 Stable. (6-25-2009 Release date), Source Gear for DiffMerge, Pavel Torgashov for the FastColoredTextBox ,SCS for ETS 2, DieHard
DOWNLOAD 37 MB
Updated:
– Reworked all textures : Better quality, new player logo, reworked company logo, reworked all trailers skin to fit all kind of trailers, new gas station, recruitment agency..)
– Completly reworked AI trailers traffic and cargo to be more realistic and fit better with company
– New models for all trailers
– Added new trailers : Tipper and empty trailers
– Fix errors and more..
Authors: Igor Nitch, Pete379jp, Rommi Tz, Bertan06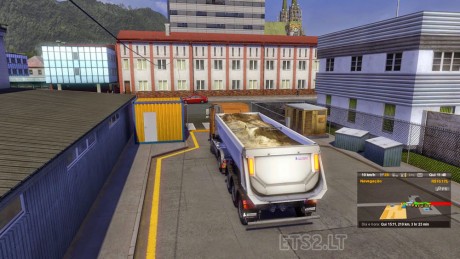 The staff of EAA she released another fix for your map. So this fix causes increase the values ​​of own truck loads and should help make the employees to work making a profit and no loss.
Installation:
The Fix01 fix should be removed from the mod folder and do not forget to activate the mod on your profile.
Download map:
http://ets2.lt/en/map-eaa-v-2-1/
Author: Team EAA