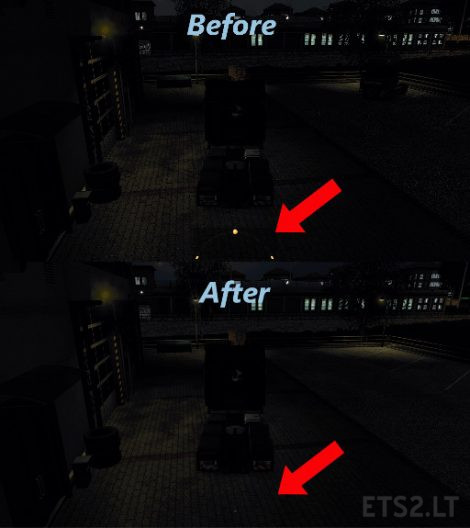 Steering indicator remover for Euro Truck Simulator 2 and American Truck Simulator
by golcan
Version: 0.1 (beta)
This mod removes the steering indicator (yellow semicircle) shown on exterior cameras for players not using a steering wheel for steering.
It does not remove the yellow underscore character shown below the semicircle.
It does not work if OpenGL is in use.
Do not reupload, respect original download link and credits.
For questions and comments: http://forum.scssoft.com/viewtopic.php?f=34&t=226049
Credits:
SCS,golcan
DOWNLOAD 69 KB
Some of you said that EXP x3 and Money x3 is not enough, okay, fine. Here you go, in this mod EXP x7 and Money x7 (+100% for delivering cargo such as ADR/Fragile/
Just in Time etc.) So basically this mod works like this: You get x7 EXP and Money per Mile, so it doesn't matter if you use custom trailers, because it will work
with any mod without any problem.
This is what you get in this mod:
x7 EXP and/or x7 Money (also x7 exp for hired drivers)
50% discount for buying fuel in garage
Parking bonus – x exp or x exp depends on which parking method you prefer.
You can download only exp mod x7 in the first link or
exp x7 and money x7 in the second link.
Tested in Ets2 v1.26
Credits:
ElfsTV
DOWNLOAD 6 KB [experience]
DOWNLOAD 6 KB [money + experience]
Changed background GPS instead of the standard black
Credits:
Donovan
DOWNLOAD 146 KB

Mod adds to the game more realism, making gates and barriers, many companies are animated! All gates and barriers have a collision, so to fully open do not attempt to drive to the base or to leave. In fashion there are not all companies that are in the game, the mod will be updated!
Version 1.3:
– Added new base
– Fixed bugs
Supported versions of the game:
1.26.x + DLC Going East + DLC Scandinavia + DLC Vive la France
Author: Schumi & SCS, CsewS,AlexeyP
Credits:
Schumi & SCS, CsewS,AlexeyP
DOWNLOAD 11 MB
– 2 interiors – normal black, luxury interior
– 2 models – Sotck, Sport
– 2 chassis – Low, Normal
– Add new wheels
– Add new 2.0TDI engine
– 4 engines – 2 Petrol, 2 Diesel
– Add new sounds
– Add better turbo sounds
Adapted for 1.26 version.
Compatible with TSM Maps & Winter Mod
Credits:
ETS2 Modding
DOWNLOAD 29 MB

Old good IWR6 – is alive 🙂
Revisiov 1 by Supric.
1. Sky textures fixed,
2. Time intervals fixed.
3. Light calculated from sky color.
4. Reflections fixed.
5. HDR improved.
Basic IWR6 was created by SGate (aka BlackOpen) with a my little help, but he stop this project.
This version i actually using.
Credits:
Supric, SGate
DOWNLOAD 205 MB