Man TGX Euro5 Custom Skin by AxelSAN
Tested on ETS2 1.26 version
Please don't re-upload!!
Credits:
AxelSAN
DOWNLOAD 21 MB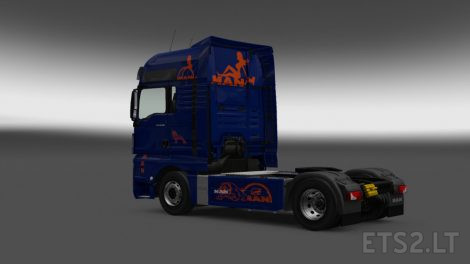 MAN TGX Euro5 Skin Custom by AxelSAN
Tested in game version ETS2 1.26
Please don't re-upload!!
Credits:
AxelSAN
DOWNLOAD 21 MB
Truck: MAN TGX E5
Company: Goja
Country: Slovenia
——————————————————————————————
-Realistic and high resolution 4K Goja textures
-Realistic UI Workshop icon
-Including Manifest
-Metalic Skin Option
-Made in coorporation with Goja
-Slovenia Licenc Plate (In Countryplate Slot)
-Works best with latest MADster MAN TGX E5 Mod
-1.24.x Tested
For Mod requests and questions:
——————————————————————————————
https://www.facebook.com/pages/Euro-Truck-Simulator-2-BiH-Stranica/522085814478248?ref=bookmarks
http://www.wotbalkan.cf/
——————————————————————————————
Our work is under Creative Commons Licence
Alteration is permitted distribution is permitted with indication of
The author and the original link to Sharemods.
Credits:
GamerHacker, MADster
DOWNLOAD 277 KB
This is the Hyper Beast skin mod for MAN TGX .
Just an abstract colourful pattern for those who like this type of art.
Enjoy!
Tested on game version : 1.26.3.2
Please, keep credits and link, thanks !
Credits:
Me
DOWNLOAD 5.4 MB
Software used: Pixelmator
Tested on 1.26.x
v2 with skins for:
DAF XF 105 SuperSpace Cab (mirror / door handle color fixed!)
Scania RJL Topline Cab
MADster's MAN TGA /w heavy bumper
MADster's MAN TGA /w normal bumper
*** ATTENTION ***
Text for sunshield on MADster's TGA included – give this skin pack a higher priority than the truck mod to have the Bautrans-Logo on the sunshield.
Special Shoutout to all my friends.
Have fun and keep on trucking,
Credits:
FarmerBeavis
DOWNLOAD 4 MB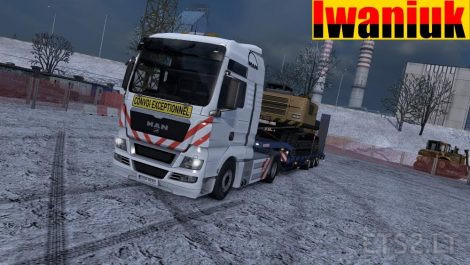 This mod adds Man Tgx Skin for Oversize loads.
Any ideas?Any problems??Do you want Cooperation with me??Let's write comments 😉
Credits:
Iwaniuk
DOWNLOAD 21 MB