Skin Trio-Trans Power Eagle for track mod Scania R&S Topline by RJL
Tested in game version 1.26
Author: Bayun4ik
Please dont re-apload without the author's link
More than my works you can see on my page in Steam :
http://steamcommunity.com/profiles/76561198127877439/screenshots/
If you want to support the author
My WebMoney requisites:
Z214474856763
E189383760967
Credits:
Bayun4ik
DOWNLOAD 684 KB
Hello,
This is a new version of the dutch fire truck skin.
Respect this mod.
If you want to reupload this mod, please set my name into the discription and use the original download link!
Enjoy this mod!
Credits:
Robin7750
DOWNLOAD 21 MB
Skin GT Radial company for RENAULT T
Test on v1.26
Credits:
Cruise
DOWNLOAD 298 KB
This skin mod is for the Iveco Stralis Highway truck, it's the asiimov pattern from the guns in CSGO .I'll be making more of these, with different patterns, in the future if you like the mod.
Tested on game version : 1.26.3.2
Please, keep credits and link, thanks !
Credits:
EHMedia
DOWNLOAD 5.4 MB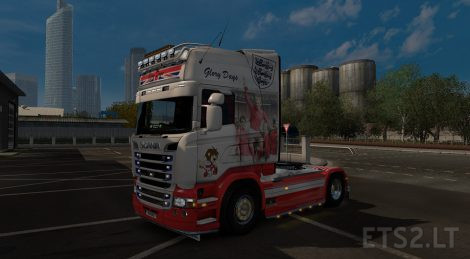 Here is my skin for the scania rjl (Glory days)
enjoy
Credits:
H1GGS SKINS
DOWNLOAD 21.36 MB
Daenerys Skin for Volvo FH 2012
-Skin is compatible only with Globetrotter XL cabin
-Tested on 1.26 version
Copy .scs file to: Documents / Euro Truck Simulator 2 / mod
Have fun ! 🙂
Credits:
Borec
DOWNLOAD 21 MB