update to v1.3:
ETS2 1.25.xx + DLC Scandinavia
Schmitz 2oft 3axe Opentop Container
with 6 Different Skins
(add to Maersk Skin)
z3d_base by Tony1971
modivizert by SchuLLis Mod Garage
Standalone Trailer with 6 Cargo
Cargo : Schmitz 2ft 3axle OpenTop 12-31 ton
Cargo : Schmitz 2ft 3axle OpenTop empty 2 ton
Credits:
– Skins 20ft Reefer, 20ftOpentop 20ft_Box by TSM Team
– 20ft Opentop / Base Container: by EED123 / Opentop version: Mr_Zer
– Heck Details by SchuLLi
===================================================
Visit
Roadhunter Page
http://roadhunter-z3d.de.tl/
===================================================
modifizert by SchuLLis Mod Garage
Facebook:
https://www.facebook.com/schullimodding
===================================================
Credits:
Tony1971, TSM Team, EED123, Mr_Zer, Roadhunter, SchuLLi
DOWNLOAD 27.6 MB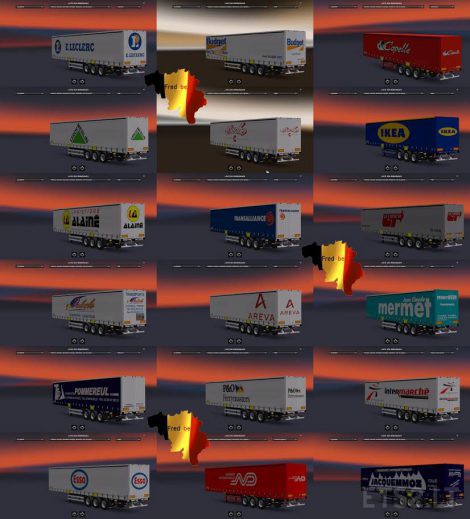 – Tested version V1.26.Xs
– Standalone
– AI Traffic
– Compatible with all pack trailer and DLC
* Respect the download link *
Credits: Bora, MDModding, Fred_be
DOWNLOAD 20.8 MB
Pack adds in game 123 military cargo.
New cargo added to 41 companies for Default Map, DLC Scandinavia, MsHeavyAlex Map, Rus Map, EAA Map.
All standalone.
Works on any map.
For version 1.25.x and 1.26.x beta
Compatible with all my packs.
Included english and russian versions.
For english version you must have in mod folder two files:
military_cargo_pack_by_Jazzycat_v2.0_base.scs
military_cargo_pack_by_Jazzycat_v2.0_eng.scs
If you're a military maniac you can put in mod folder traffic file
military_cargo_pack_by_Jazzycat_v2.0_traffic.scs
Version 2.0 – added some UK military vehicles: FV721 'Fox', FV105 'Sultan', Chieftain Mk10.
Credits:
Jazzycat
Préparation DLC Vive la France
Profiliner PEROCHEAU (Trailer + ActrosMP4)
Added:
Profiliner DOUMEN-100Th Birthday (Trailer + DAF Euro6)
Trailer Standalone and AI traffic .
Don't Reupload !!!
Use original link , drive safe 😉
Credits:
Skin: Kriistof -Mod Trailer profiliner: Matdom 1988
DOWNLOAD 11.7 MB
Kafkas Transport Trailer
Test version : 1.25 x All versions
Good game 😀
Credits:
Şahin Qurbanov
DOWNLOAD 3.8 MB

Pack with 39 standalone trailers for the Euro Truck Simulator 2 and American Truck Simulator game. Trailers are in the Brazilian style for versions 1.22 through 1.26.X.
Keep the credits and the original link
Credits:
Geovane Rocha, Silva War, Sr PeppA do Mau, Anderson Matos, Ewerton Narita
DOWNLOAD 152.6 MB