Tested in version 1.24 and worked fine.Please keep original link.Happy Tucking.
Author: Kacperth
DOWNLOAD 6 MB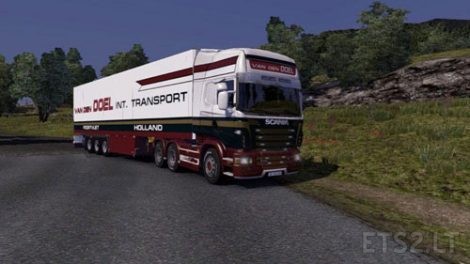 Trailer van den Doel Int. Transport, Netherlands.
Please don't re-upload but share the same links!
Author: Dutch-Wave
DOWNLOAD 10 MB
A cool trailer made by Kacperth,
Please keep original link.
My Youtube Channel : https://www.youtube.com/channel/UCPYahkBn2GQSkce_IRGPzng
Authors: Kacperth,SCS
DOWNLOAD 5 MB
– Standalone
– Tested on 1.24x
– Credit to original author for Chereau base
Respect the download link!
Credits:
BH
DOWNLOAD 22.3 MB
This trailer is not the final version, I will be upgrading this trailer. Happy Trucking. Please keep the original link.
Author: Kacperth
DOWNLOAD 5 MB
Mod is compatible with version 1.24.A reliable trailer of John Deere. 🙂
Authors: Kacperth, SCS
DOWNLOAD 5 MB