KamAZ 5410 HQ remake by JAWA & Stas556_.2.0
HQ Model of Russian powerful kamaz.
That mod includes sounds, interiors, tuning parts, chassis, lightmask, animations.
Whats new in 2.0 VERSION?
– added 4×2 chassis
– added BDF trailer pack
– new sounds
Road Team Art (JSSA-team)
http://vk.com/roadteamart
Credits:
Authors:
3D MODEL: JAWA
3D Model of manipulators: Giants Software и Oovee® Game Studios.
Convert: Stas556
Defs: Мишанька (Mishanka)
Port details: dmitry68
Sound: SimKA (Артем Аббасов)
DOWNLOAD 207 MB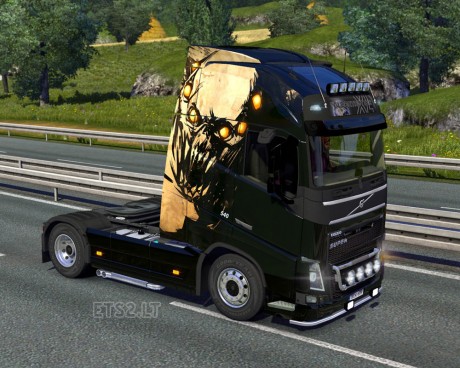 Dying Light Skin for Volvo FH 2012 Truck
Author: Antonella
DOWNLOAD 5 MB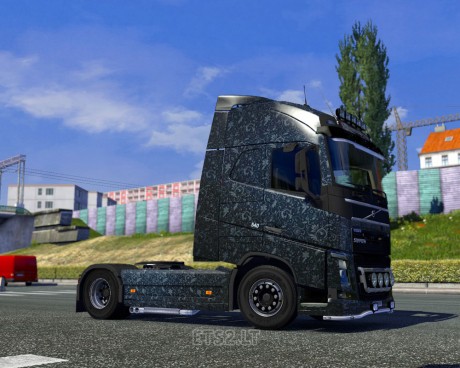 Pattern Skin for Volvo FH 2012 Truck
Author: Antonella
DOWNLOAD 5 MB
Roadhunters jumbo curtain sided Krone trailer
Standalone, but plz let a few game hrs pass before trailer starts to show
Hope like and enjoy
Credits:
Trailer: Roadhunter, Standalone: Wongcroft, Skin: Banksy
DOWNLOAD 9.2 MB
Slio Melmer Skin for MAN Truck
Author: Ghass72
DOWNLOAD 3 MB
Previously "ProMods Trailer Pack".
This mod adds 103 trailer skins for ProfiLiner, Fuel Cistern and CoolLiner trailers. Scroll down for details on what's
included.
Should work on all versions, tested on 1.15.x and 1.16.x .
Should be compatible with other trailer mods.
Changelog:
v0.95 (BETA)
– Fixed Srboexport trailer not showing up
– Higher quality Merkur logo
v1.00 (INITIAL RELEASE)
– Added 19 new trailer skins
– Fixed possible issue with Scandinavian Express overwriting Merkur trailer
v1.5
– Re-named "European Trailer Pack"
– Trailers now appear in AI
– Added 53 company skins
– Mod is now a .scs file to avoid confusion!
———————————————————————————————–
List of company trailers/ album can be found BELOW:
——————————————————————————————————-
Credits:
uk_daf_fan
NOT TO BE RE-DISTRIBUTED WITHOUT PERMISSION OF AUTHOR, THIS IS AN ILLEGAL PRACTICE AND WILL BE DEALT WITH ACCORDINGLY!
Credits:
uk_daf_fan
DOWNLOAD 101.77 MB
Hatsune Miku Jumbo Trailer Skin (Standalone Trailer)
Credits:
Syahrul(Skin), Roadhunter(Trailer)
DOWNLOAD 4.68 MB