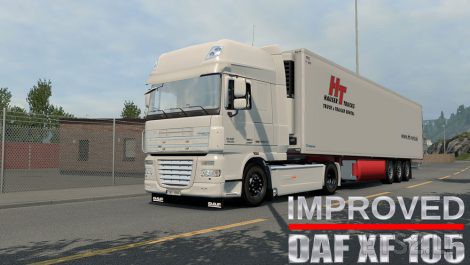 -Completely reworked interior and dashboard with HD-textures, new
parts and components;
-Two new interior variants, four interiors total available: three
factory and one tuned;
-Dedicated interior for Space cabinбины Space;
-Added 3 and 4-spoke steering wheel with various colors;
-Correct dashboard computer by 50Keda;
-New HQ outside interior models;
-Support for both EU & UK trucks;
-Improved visual look of truck model;
-Five new cabins and 30 new chassis variants;
-Standard and chip-tuned engines, which vary by sound too (by
Kriechbaum);
-Lots of realistic ZF transmissions;
-Lots of tuning parts;
-Added engine badges;
-Advanced coupling supported;
-Two new windshield wiper modes;
-Template for creation of skins is included;
-And some other features, which i forgot))
To use tuning parts from 50Keda you will need to install 50Keda Addons
mod first!!!
Always install 50K Addons mod with lower prioriry, than truck mod!
Mod is tested on ver. 1.26.x. Mod is not fully support OpenGL, crashes
are possible!
Changelog:
-added 43 new ZF tranmissions, based on Snoman gearbox data;
-added Paccar MX560 and Paccar MX560 chip tuned engines with realistic
badges;
-added templates for proper skins support and skin creation (by
MrCapital);
-added side windows air deflectors with hole for the side mirror.
Credits:
AlexeyP, Kriechbaum, 50Keda, MrCapital, Snoman, SCS Software
DOWNLOAD 117 MB
Truck: Mercedes MP4
Company: S Rojko
Country: Slovenia
——————————————————————————————
-Realistic and high resolution 4K S Rojko textures
-Realistic UI Workshop icon
-Including Manifest
-Metalic Skin Option
-Made in coorporation with S Rojko
-Works with davidzoli Mercedes MP4 "New Actros plastic parts and
more" Mod
-1.26.x Tested
For Mod requests and questions:
——————————————————————————————
https://www.facebook.com/pages/Euro-Truck-Simulator-2-BiH-Stranica/522085814478248?ref=bookmarks
http://www.wotbalkan.cf/
——————————————————————————————
Our work is under Creative Commons Licence
Alteration is permitted distribution is permitted with indication of
The author and the original link to Sharemods.
Credits:
Boss
DOWNLOAD 283 KB
New Flares which looking more realistic
https://www.facebook.com/groups/ets2modsbyblinkt
Credits:
BLiNKT
DOWNLOAD 1 MB
Pack Loads Brazilian LOG Holding By Geovane Rock Euro Truck Simulator
2 game up to version 1.22.
Credits:
Geovane Rocha, Silva War Gameplays, Anderson Matos, Ewerton Narita,
Sr. PeppA do Mau, PisicoAdesivos
DOWNLOAD 45 MB
Skin "Ebbe K. Jensen" for Scania T Longline & Scania R & Scania
Streamline
Test version : 1.25
Credits:
Aleksandro
DOWNLOAD 21 MB for Scania T
DOWNLOAD 5 MB for Scania Streamline
DOWNLOAD 5 MB for Scania R

This is a HQ 4k skin of real life livery Wild Transporte of Germany.
Download and enjoy!
Credits:
ryaskins
DOWNLOAD 21 MB