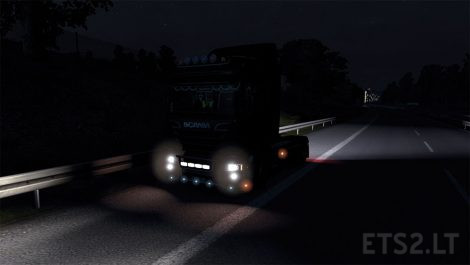 Bright reverse light
Rear light from reversing light burns brighter. It looks more realistic
Added manifest and image
Light works on the car and trailer
Test version: 1,24x – 1.25x
Credits:
Stereo_Night ($Winston$), sasha87s
DOWNLOAD 12 KB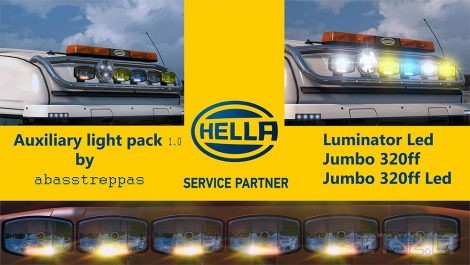 This pack includes:
Hella Luminator Led
Hella Jumbo 320ff
Hella Jumbo 320ff Led
Three versions of "bodies"
Stock black
Chrome
Paint (base_colour)
Hella Jumbo 320ff and 320ff Led comes with three different glass colours
Clear
Yellow
Blue
Only Jumbo 320ff Led with clear glass has amber leds
All Jumbo 320ff Led also has a flash led that activates when use of beacon
I have also included a modded version of "no bottomgrill" for RJL Scania RS, which flips the 4 middle hookups around and therefore you can "hang" the lamps there
You can share this on other sites but KEEP ORIGINAL DOWNLOAD LINK AND CREDITS! NO NOT REUPLOAD TO OTHER FILE SHARING SITES! You can freely edit mod for personal use.
Publishing edited mod without my (abasstreppas) permission is forbidden!
Tested in 1.24.x
Credits:
abasstreppas
DOWNLOAD 9 MB

Vabis Interior Light for Scania R and Streamline Trucks
Please original download link.
ETS2 1.24xx and 1.25.xxx versions
Author: Kadir Yağız
DOWNLOAD 507 KB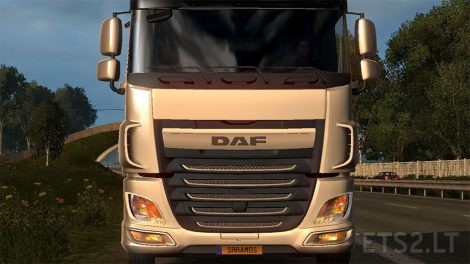 This is a yellow – Orange lightmask for the brand new DAF.It doesn't have the yellow flarepack, so when you turn on the lights it will get White as normal.Sorry if the Picture above is bad quality.
Credits:
SRRAMOS
DOWNLOAD 24 MB
I made a mod yellow light for Scania R and S RJL
Credits:
TruckMods
DOWNLOAD 63.9 MB
I made a mod for yellow lights for Scania T RJL
Credits:
TruckMods
DOWNLOAD 76 MB