Mod version 1.2!
Tested on version 1.25.x.
New companies and trailers!
Trailers are included in AI traffic.
Tested without any other mods!
Bcp now is DSV
Euroacres now is S&G Farming
Eurogoodies now is Rimi
Fcp now is Total
Itcc now is Cemex
Kaarfor now is Carrefour
Lkw log now is DHL
Nbfc now is Orlen
Posped now is Fedex
Stein bruch now is CAT
Sanbuilders now is JCB
Sellplan now is Kaufland
Stokes now is TNT
Tradeaux now is DB Schenker
Trameri now is DPD
Transinet now is UPS
Tree et now is John deere
Wgcc now is Shell
Support mail:
[email protected]
Happy trucking!
Author: LVmodingTeam
DOWNLOAD 13 MB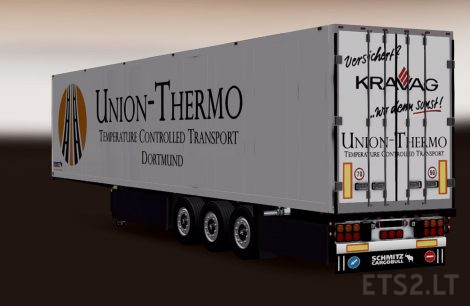 Original Trailer: unknown
Rims: Abasstreppas
Rearlight: RJL
Licence Plate light: Ohaha
Author & Trailer Edit: MarcDo
Standalone Trailer, Full AO, Template, Lightmask
Authors: Abasstreppas, RJL, Ohaha, MarcDo
DOWNLOAD 11 MB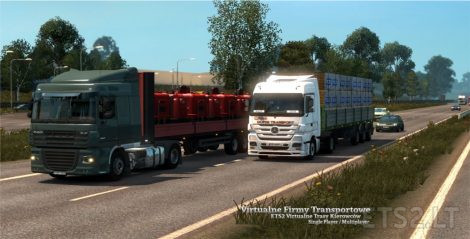 Mercedes Skin version 1.25
Download and enjoy! Please don't re-upload but share the same links. Thanks for your understanding.
Author: Gofer
DOWNLOAD 5 MB
This MOD will change the color of the interior and the meter.
Please choose the paint at the store to apply the skin.
Changes from the previous version now supports Scania Streamline, supports ETS2 v1.25 and add a trailer.
Mod tested on 1.25
This MOD only work with Scania R and Scania Streamline.
Caution! Skin is compatible Topline onry.
Have fun.
Credits:
kurenaibeta
DOWNLOAD 16.6 MB
Gokbora Combo Pack
Trailer Profiliner with advanced coupling and trailer legs
working on 1.25.x
trailer standalone available in traffic
skin for Volvo FH 2009 by SCS
Credits:
KiLLeR Modding
DOWNLOAD 2 MB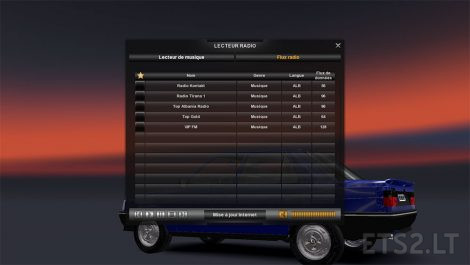 Put the file "live_streams.sii" in the folder "Euro Truck Simulator 2".
If you have ANY flow radios, give me, thank you!
Credits:
Ficfic
DOWNLOAD 1 KB