This is a edit mode for Renault Premium with own interior with accesories, new skin for truck, a lot of accesories and tuning and much more.
This is a turkish edition!
Enjoy!
Credits:
SrqN
DOWNLOAD 25.5 MB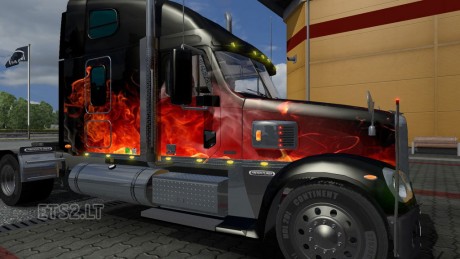 Freightliner Coronado Original Fire Skin
Credits:
Миша228
DOWNLOAD 0.7 MB
Pack adds in traffic 57 russian vehicles.
All standalone.
Works on any maps.
Compatible with all my packs.
Tested on 1.15.x
Included versions for Russian maps (Eastern Express, Rus Map) and all other maps.
Version 1.2 – all AI Cars re-edited (added light masks, lods, shadows and so on), added some russian vehicles.
Credits:
Jazzycat
DOWNLOAD 62.5 MB

Small Spedition in Lublin
It is possible to take out to forums under the condition of keeping the original link and giving authors.Have fun! :)
Credits:
BartekFH,Scs
DOWNLOAD 56.2 MB

Test on Version 1.15.x
PSD files (templates) are included. So you can make your own skins.
To use the trailer with my refrigeration economies suggest two Modica, with which you will be able to include the necessary options for the trailer. How? Inside, read the instructions. Just by using this mode, you can easily register your trailer. Enter the details of your trailer to a file and repack chacis_q.sii mod.
Credits:
SCS, oq37
DOWNLOAD 64 MB