1.17
Credits:
Alexander Lone Wolf
DOWNLOAD 177 KB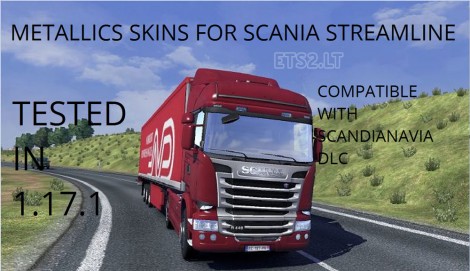 A Pack of Metallic Skins for Scania Streamline Truck
Gold, Silver, Bronze, Emerald, Amethyst, Sapphire, Rubis and Diamond.
Tested in 1.17.1.
It's a limited edition.
Author: ForAllTheBilly
DOWNLOAD 43 MB
Version 6.0:
– Fixed version
– Now works with all versions
– Added brighter colors
– Now for all Trucks
Authors: rikelto, jagerma, lourtekq
DOWNLOAD 33 KB
Rock Skin for Scania Truck
Tested 1.17 version
Author: Robert Hcl
DOWNLOAD 5 MB
Touhou Project Skin Hong Meiling for Scania T EXC Longline Truck
Tested on 1.16
Author: Touhou Fans Indonesia
DOWNLOAD 21 MB
Required: Scania RJL mod.
Have fun.
Credits:
ibrhmkyn
DOWNLOAD 25 MB