S.T.M Skin for Scania RJL Truck
Tested 1.18.x version
Author: G48
DOWNLOAD 310 KB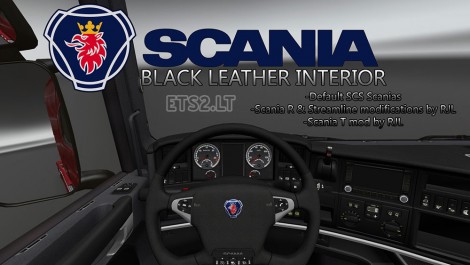 This mod changes the exclusive interior of Scania to a black leather one.
This mod is compatible with the following Scania trucks:
– Default SCS Scanias
– Scania R & Streamline modifications by RJL
– Scania T mod by RJL
Works with 1.18 version of the game
Authors: MrTheFlashback, SCS Software
DOWNLOAD 10 MB
MM Transport Skin for Scania R Truck and Trailer
Author: panthere03
DOWNLOAD 8 MB
Venezia Skin for Scania R Truck
Author: panthere03
DOWNLOAD 5 MB
This mod has been tested on the newest version of the game and its another Company Truck skin (No Trailer, Just Truck Skin)
—————INFO—————-
Working & Tested Version: x.x.1.19.0.11
Truck Model: Scania Streamline
Cabin Size: Highline
Company Color: LKW
—————Copyright & Rules————
DO NOT RE-UPLOAD ANY OF MY SKINS WITHOUT PERMISSION, IF I FIND THIS OR ANY OTHER OF MY UPLOADED SKINS I WILL GET'EM REMOVED. BUT FEEL FREE TO SHARE MY SKINS.. P.s DONT TAKE ANY KIND OF CREDITS MAKING IT!!
—————-Contact Me——————-
E-Mail: Bastian-7@live.dk
–E-Mail #2: ETS2bastian@hotmail.com
—Steam: [Your Way Forward] Bastian [DK]
—-Skype: bastian.b.villadsen
Authors: SCS, Bastian
DOWNLOAD 242 KB
http://ets2.lt/en/turkey-skin-pack/
This mod updated.
● According to Mod Manager interface edited.
● Skin names writed with Turkish Letter.
Credits:
Uşaklı™
DOWNLOAD 10 MB
Now you can see interior from exterior for Scania R.
Work only for 1.19.
Credits:
OveRTRucK
DOWNLOAD 448 KB