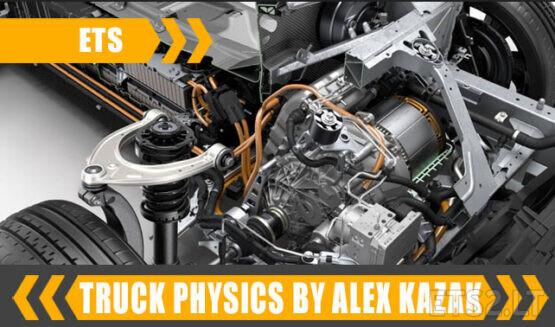 The modification brings the behavior of the truck and trailer closer to realistic (as far as the game engine allows). The changes affected the physical properties of the truck cab suspension, truck chassis, and trailer, also, the pneumatic seat (rocking chamber), brakes and transmission were configured.
Truck compatibility: all default trucks, as well as support for mod trucks in separate DLCs (more than 45):
DAF F241 by XBS
DAF 95 ATI by XBS
DAF XF 105 by Vadik
Kamaz K5 by Lacoste36
Volvo FH 2012 by Remon
Renault Premium by Alex
Renault Magnum by Knox_xss
Ford Trucks F-MAX by Hardoux
Kamaz 5490 Neo by SimKA (SRTeam)
Mercedes-Benz Actros MP4 by Alex
Scania R & Streamline 2012 by FRED
Mercedes-Benz Antos 12 by D3S Design
Mitsubishi Fuso SuperGreat RecycleDog
Mercedes-Benz Actros MP5 2019 by ACTROS 5 CREW
BDF Tandem Truck Pack v137.30 by Flemming V
Mercedes-Benz Big Stars Actros Arocs SLT by WTD
DAF XF 105 Rew by Schumi
Iveco Hi-Way Rew by Schumi
DAF XF Euro 6 Rew by Schumi
Volvo FH_FH16 2009 by Schumi
Renault Premium Rew by Schumi
Mercedes-Benz Actros MP3 Rew by Schumi
Mercedes-Benz Actros MP4 Rew by Schumi
Low deck SCS MAN TGX E6 by Sogard3
Low deck Scania NTG Eugene by Sogard3
Low deck SCS Renault Range T by Sogard3
Low deck RJL's Scania R_S R4 P_G by Sogard3
Low deck Renault Magnum knox_xss by Sogard3
Low deck Volvo FH_FH16 2012 Eugene by Sogard3
Low deck chassis addons for Schumi's trucks by Sogard3
MAN TGA by MADster
MAN TGX by MADster
MAN TGS by MADster
MAN TGX Euro 6 by MADster
MAN TGS Euro 6 by MADster
Volvo FM BDF by Galimim
Volvo FM-FMX by Galimim
Mercedes-Benz Actros MP4 by Galimim
NTG Scania P G R S by Eugene
Volvo FH_FH16 2012 by Eugene
Scania NTG 2019 by Luan Luis
Volvo FH12 2012 by Luan Luis
Scania SpecTransGroup by Jon Ruda
Scania Adwin Stam Combo by Jon Ruda
Scania NextGen 730 Torpedo by Jon Ruda
Scania T Mod by RJL
Scania T4 Mod by RJL
Scania R_Streamline by RJL
Scania R4 Series Addon for Scania by RJL
Scania T T4 by Rafael Alves
Scania R S R4 by Rafael Alves
Volvo FH 2009 by Pendragon
Volvo FH 2012 by Pendragon
Patch compatibility: 1.40
WARNING!
Unauthorized copying, engineering analysis, transfer of hidden files, public display of hidden files, renting and circumvention of the copy protection system are strictly prohibited. Please do not restart my modification to other file exchangers, when posting information about the modification, indicate the original links to the official page of the modification!
Official modification pages:
ETS: https://forum.scssoft.com/viewtopic.php?f=39&t=285163
ATS: https://forum.scssoft.com/viewtopic.php?f=202&t=286139
If you liked my work and you want to support me financially!
PayPal link: https://paypal.me/alexkazakmod
Qiwi link: https://qiwi.com/n/ALEXKAZAK
Yandex money: 4100115380395082
Thanks you!
Credits:
Alexander Kazak
DOWNLOAD 6 MB