1/3 scale Tokyo-Yokohama Map mod.
-ETS2 v1.32x compatible
-DLC Scandinavia & France required
-AI Traffic Pack by Jazzycat v8.6 compatible
-New Ownable Tipper Trailer (Scrap Metal only)
-New Buildings and a prop
-New Color variant for taxi
-YokohamaBaybridge updated
Do not choose HQ at Yokohama.
Currently its unsupported location.
Credits:
Koutsu
DOWNLOAD 106 MB

1/3 scale Tokyo-Yokohama Map mod.
-ETS2 v1.31 compatible
-AI Traffic Pack by Jazzycat v7.3 compatible
-Kawasaki Expanded, new Garage and Cargo.
Kawasaki is one of the Heavy Industrial area of Greater Tokyo.
The factories in Kawasaki was a driving force of economic miracle of Japan.
On the other hands, Nothing could survive in Waste water filled Tamagawa river.
Polluted air of the Chemical and Steel Industries and Noises of heavy traffic got people to sick.
Kawasaki called "City of Pollution"
Kawasaki`s environment had changed nowadays.
The site of moved factories be redeveloping to Shopping malls,Apartments and R&D facilities.
Also Kawasaki is 8th largest cities of Japan.(without Tokyo 23 wards)
Credits:
Koutsu
DOWNLOAD 84 MB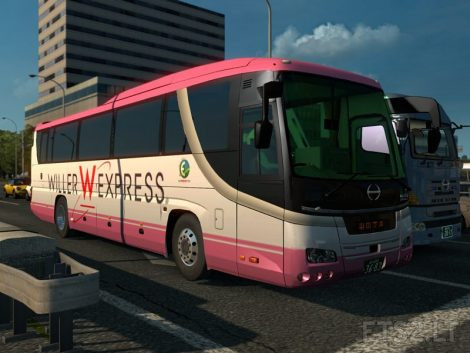 1/3 Scale Tokyo – Yokohama map mod.
1.307 is beta version.
-Improved performance
-Fix incorrect definitions
-Prefabs looks and AI route update
-Realistic traffic spawn rate
-New AI Bus "WillerExpress"
North of Kawasaki Area has not detailed scenary.
Credits:
Koutsu
DOWNLOAD 81 MB
1/3 scale Tokyo-Yokohama Standalone map mod.
-ETS2 1.30x compatible
-Add a MAN Truck dealer at Kawasaki
-Daishi Junction&IC completed
-Brand new road prefabs and templates
-Hino Dutro-Hybrid Packer AI
Credits:
Koutsu
DOWNLOAD 78 MB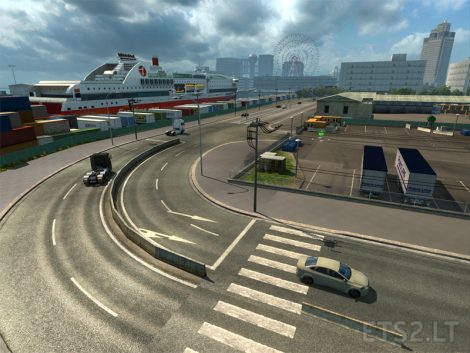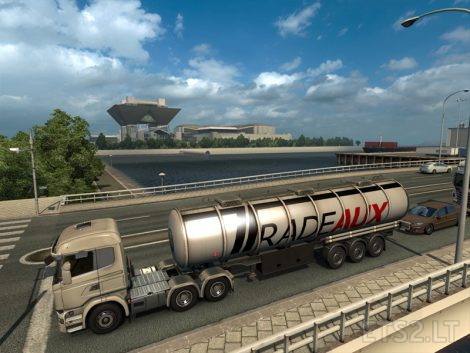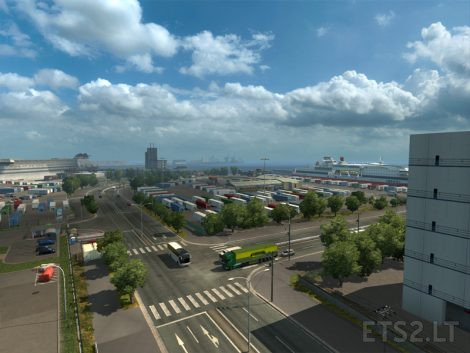 1/3 scale Tokyo-Yokohama map mods.
DLC East,Scandinavia,France requires.
-Port of Tokyo (Ariake Pier)
Ariake pier is large hub of domestic coastwise route ships.
Many of LOLO ships connecting the cities on Pacific ocean coast and Okinawa.
-Tokyo Big Sight
You will see the unique building configured with trigonal pyramids.
Its a convention center calls Tokyo Big Sight.
There will hold Press Center during Tokyo 2020.
Japanese License plates will crash the game in Truck Customization,First Garage and Preferred Truck.
This file is not a dependency.
Credits:
Koutsu
DOWNLOAD 80 MB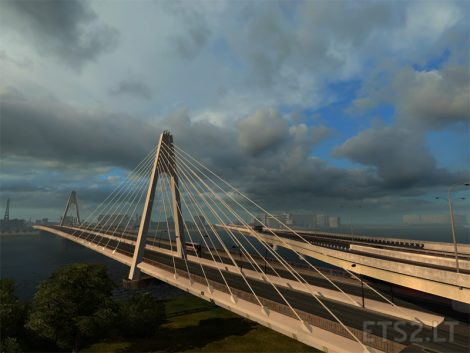 1/3 Scale Tokyo-Yokohama map mod
+New landmarks for Kawasaki.
+ETS2 v1.30 compatible
-Trucks customization crash the game.(SCS original bug from 1.30release version)
-Port of Tokyo and Kawasaki is under building.
-Weather definition reset to default.
Fixed many of obsolete models and materials.
Some of the overwrite type files deleted.
Jazzycat`s AI mod v6.31 compatible.
DLC East,Scandinavia and France required.
Credits:
Koutsu
DOWNLOAD 79 MB