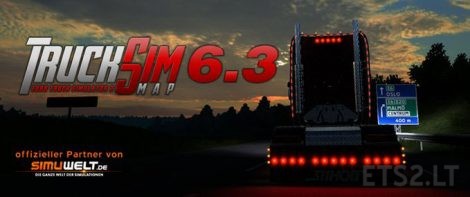 This mod is compatible with patch 1.24.x
It contains:
• real company-names
• all trailers with skins of original brands
• Truckshop- Dozens of additional accessories, motors, and gearboxes for all trucks
• all parts are accessible from start of the game
• improved traffic
• increased traffic
• some cars have topspeed above 200 km/h for german highways
• improved in-cabin sound
• AI better hearable
• reduced airnoise
• Scania V8 engines slightly louder
• changes in economy
• bank loan up to 500.000 € with longer durations
• changes in police-fines- and lots of minor changes to give you more pleasure with this game
Changes to previous version:
• adapted to patch 1.24.x
Have Fun!
TSM is licensed under a Restricted-NonCommercial-NoDerivs 3.0 Unported License (CC BY-NC-ND 3.0).
It is only allowed to supply this mod via the given downloadlinks!
It is absolutely forbidden to host this mod on any other filehosters.
It is allowed to distribute the Original Links in public.
DL Links:
http://uploaded.net/file/1as90q3i
http://uploadfiles.eu/bpl73k5fb4vs/JPM_for_TSM_6.3.x.7z.html
http://sharemods.com/ceqobgy181c8/JPM_for_TSM_6.3.x.7z.html
Author: TSM Team
DOWNLOAD 73 MB