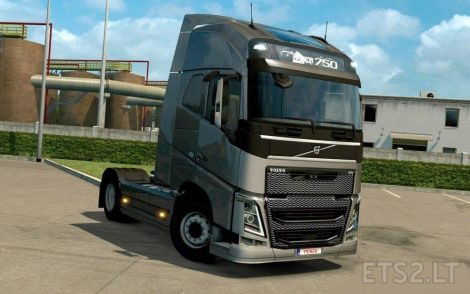 Mod makes a gray grille for all VOLVO FH 2012 engines for ETS 2
! Mod is redesigned and updated under 1.27!
Works in MP.
One hundred should choose the engine 750 hp, and then the one that you need.
!! ATTENTION !!
In MP, the tractor does not have to be tuned, as the modification will fly off!
Credits:
Blues
DOWNLOAD 33 KB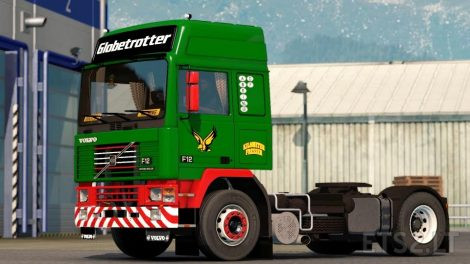 That's a paint job with my favorite colour combination for my favorite truck and it is also a homage to older paint jobs from the 80s and 90s.
Credits:
doexpectnothing
DOWNLOAD 394 KB
Tested on 1.27 game version and with mod of AlexeyP,Piva,50keda,Eugene,Danz,Knox_xss,Turbosquid
Credits:
AxelSAN
DOWNLOAD 250 KB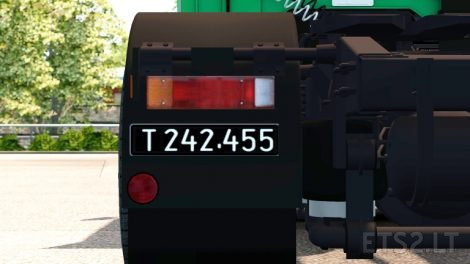 This is an old style austrian number plate from Tyrol. It fits perfect to my old style Nothegger paintjob.
Credits:
doexpectnothing
DOWNLOAD 65 KB

Old style Nothegger skin.
This paint job is for the F-Series Volvo by Mahyar Ghasemi.
Low Cabin only!
Credits:
doexpectnothing
DOWNLOAD 107 KB

4 Cabins
13 Chassis, 7 Original + 6 New
6×2/4 normal Chassis + sideskirt + sidestripe + middle exhaust
6×2/4 long Chassis + sideskirt + sidestripe + middle exhaust + cabin coll
6×4 normal Chassis + sideskirt + sidestripe + middle exhaust
6×4 long Chassis + sideskirt + sidestripe + middle exhaust + cabin coll
8X4 normal Chassis + sideskirt + sidestripe + middle exhaust + cabin coll
8×4 long Chassis + sideskirt + sidestripe + middle exhaust + cabin coll
10 Engines, 9 Original + 1 New
999 HP Engine with badge
8 Original Transmissions
4 Original Interion
Over 230 Pait Job ( If you have all DLC )
Original Accessories + 4 different sideskirts + 2 different cabin coll (Paint + chrome / full chrome)
V8 light for driver & co-driver + 2 different middle exhaust ( If you have Mighty Griffin Tuning Pack DLC )
Original Interion Accessories + V8 light for driver & co-driver ( If you have Mighty Griffin Tuning Pack DLC )
Truck company and dealer, in UK also
======================================================
Fixes:
Bull bar location
Steer rear wheels location
Fog lights no more on
Better dashboard lights
Front bumper paint
======================================================
Note:
You must have Mighty Griffin Tuning Pack DLC
V8 light for driver & co-driver work on all cabins
Accessories work only on the modify chasses above
Have fun all of you 😀 😀 😀
Credits:
Remon
DOWNLOAD 13 MB