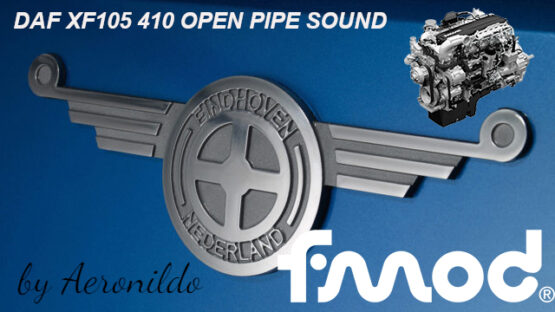 DAF XF105 410 open pipe sound for default SCS truck, only for the XF105 variant.
This mod is a result of dozens of hours searching/watching Youtube videos throughout the years where i could find a clean sound to use. No professional recording used. You are not authorized to use assets of this mod in your mods or "reworked versions". If you fail to comply with this just don't post it in the wrong place.
Created and tested using keyboard and mouse only and it was good enough for my personal preference, maybe it will not perform well for those who use pedals.
Some SCS assets used, credits to them.
Other mods: https://www.youtube.com/c/Aeronildomods
If you wish to support me that will help me a lot:
https://www.paypal.com/donate/?hosted_button_id=N9XP6HYXCWNQL
Credits:
Aeronildo, SCS.
DOWNLOAD 3 MB