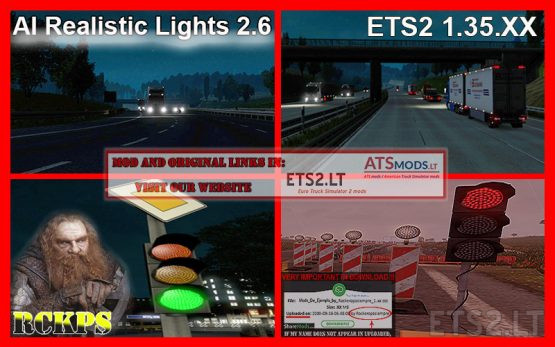 AI Realistic lights V 2.6 for ETS2 1.35.XX
Mod update
PROHIBITED UPLOAD THE WORK TO ANY SERVER WITHOUT PERMISSIONS.
Changes in Version 2.6:
– New texture for the traffic lights led's.
– Added LEDs, to traffic lights and beacons of road works.
– The traffic lights remain colorless, until their function makes them light, and adapt the required color.
– Adapted the new versions of pmg files.
– Changes in the values of the tr_light_flares.sii file
– Reduction of blur on roads and rear parts of other vehicles.
– Removed the blur of traffic signals that caused excessive glare around them.
– Compatible with all Dlc's.
Author: Rockeropasiempre
File weight: 3,3 Mb
Credits:
Rockeropasiempre
DOWNLOAD 3 MB