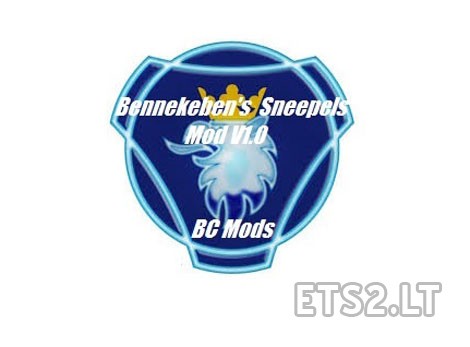 Its NOT allowed to Re-Upload to other File Hosters
Respect the Original Link if u want to Share.
Visit our site to find all Original Links (Site link Below)
This mod is open for Personal changes.
Sound Samples Created by Bennekeben.
Sound Samples may be Used for other Purposes in change of Credits to Author.(Bennekeben)
Feel Free to sign up and be a fan @ http://1manarmyfans.webs.com
Report a bug, Share suggestions, Ask Info/Help, Recieve Email when a new mod is Out.
Bennekeben's Sneepels V8 SoundMod v1.0
————————————
MOD INFO
————-
With this mod im trying for something new…
this is my First attempt of the sneepels v8 scania sound
see the video how it sounds in game..
Best played with Manual shifting so u can really enjoy the whole rpm ratio the engines deliver
ive added some special sound effects to try to simulate as
real as possible but i have some limitations to convert it in a propper way to the game.
To really make the engine rumble, hold it just above 2400rpm.
It will make the nice clapper sound. u have to be under some Load to make that sound work.
when not underload the Rpm on throtle will go to fast and it will activate the Rev sound at 2490rpm.
Rev it in burst or just hold the throttle..will change the revving sounds.
This mod is also completly stand alone ( becides the fact it needs a truck to work)
Stand alone ? u keep your original sounds aswell and
if u allready use a scania sound mod just add the sneepels mod and both sounds will work depending on what engine u choose…!!
it has it own engines and sounds and will not inflict any other sounds mods.
Whats in this mod ?
—————————
The V8 Sneepels sound for the scania trucks
3 different engine types with sound for scania model Rcab, Tcab, Streamline, 50Keda
Reworked Sneepels skin by Ghass72 in Black and Customizable colours in the spray shop
Reworked VenTyres wheel with different paints in Sneepels blue,Black,White + Red(stock)
Custom Creations
————————
Stand alone soundmod
Custom created Engine & sounds
for Scania Rcab/Tcab and streamline ,50Keda
3 Engines 680,730,1000 hp
3 Extra coloured Ventyres Sneepels Blue,Black,White
Reworked Black sneepels skin from ghass72
+ Custom Colour changer in the sprayshop
New shift sound
New engine sounds
New air valve sounds
New motorbrake sound
Loud horn
Sneepels Sound conversion from recordings
Special Engine Effect
by Bennekeben
Other truck sounds remain stock sound
Reverse beep
Engine On/Off
Blinkers
etc..
by SCS sw.
——————————————
Updates?
————–
Most Likely,…I will still update to fine tune more to the real deal..when i have the time for it'
if u have suggestions to help or ask questions feel free to contact @ http://1manarmyfans.webs.com
or @steam BC.mods^^Bennekeben
Credits:
Bennekeben, ghass72, Ventyres
DOWNLOAD 148 MB