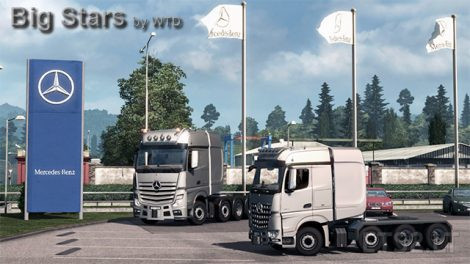 "Big Stars" adds New Actros/Arocs SLT as seperate vehicles. (Some parts shared with scs originals)
Changes in 1.4.7:
Changed range of "worklights" (additional reverse lights) at the rack/tower.
Changed vehicle values (kerb weights & residual_travel) – vehicles should behave better while hauling heavy loads. (experimental)
Added battery box and rear hitch (by scs) as low poly variants. Marked as "LP" for low polycount and "HP" for high polycount.
**************
Overview:
– New Actros & Arocs SLT as seperate vehicles
– One 8×4 chassis in 3900mm length for both vehicles
– Bigspace in 2500mm width for both vehicles
– Gigaspace in 2500mm width for Actros
– Front bumpers selectable (orignal, SLT)
– Rear fenders selectable (original, tearplate in 2 variants)
– Badges removable
– "Front grill" selectable (plastic, paint)
– "Sides/front fenders" selectable (plastic, paint)
– Towing hitch selectable (without, straight, tilted)
– Set of "heavy cargo plates/signs"
– License plates selectable (different positions, texture & generated by the game)
– Roofbars, new transmission, skins, and more …
**************
More stuff planned:
Cabins in 2300mm width, more chassis, lowpoly variants of some accessories, and more …
**************
Mod presented by WTD – WrittenExample, Thunderhawk, D4LYNCHHD
Additional contributers:
Speedy143 (West of Scotland Heavy Haulage — Skin)
Lucas95 (Aertssen, Baumann, Blue Star, Bolk, Bögl, Vossmann, Zerges — Skins)
Gordon Gekko (Cadzow, Ruttle Plant — Skin)
Scaild (Svestka — Skin)
LadenSwallow (adaptation of scs skins – Bears, Heavy Charge)
**************
Additional packages:
Big Stars – Compatibility to Cabin Accessories
Big Stars – Compatibility to National Window Flags
Big Stars – My license plates: https://drive.google.com/open?id=0B8tAqWsdIBxNTlhqS2F4enhPcVk
**************
Templates: https://drive.google.com/folderview?id=0B8tAqWsdIBxNb0N6X25FWHBDcHM&usp=sharing
**************
SCS Software message board – http://forum.scssoft.com/viewtopic.php?f=35&t=216043
Facebook – https://www.facebook.com/Modsbythundermods
Youtube – https://www.youtube.com/user/thundermods
Patreon – https://www.patreon.com/thundermods
Credits:
WrittenExample, Thunderhawk, D4LYNCHHD