Spedition BORK Skin Pack for Truck&Trailer
Required MODs/DLCs:
Krone Trailer Pack DLC (by SCS Software)
MAN TGX Euro 6 https://ets2.lt/en/man-tgx-euro-6-v-2-2-v1-33/
Volvo FH Rework by Eugene https://ets.modhoster.de/mods/volvo-fh-fh16-2012-uberarbeitete-version-1-27-x
Scania R by RJL http://www.mediafire.com/file/xj20ko70yy1f11x/RJL_Scania_R_%2526_Streamline_v2.2.4.zip/file
Put this file into My Documents → Euro Truck Simulator 2 → mod
!!!Do NOT re-upload!!!
Tested on 1.35!
Have Fun!
Credits:
Szympans
DOWNLOAD 225 MB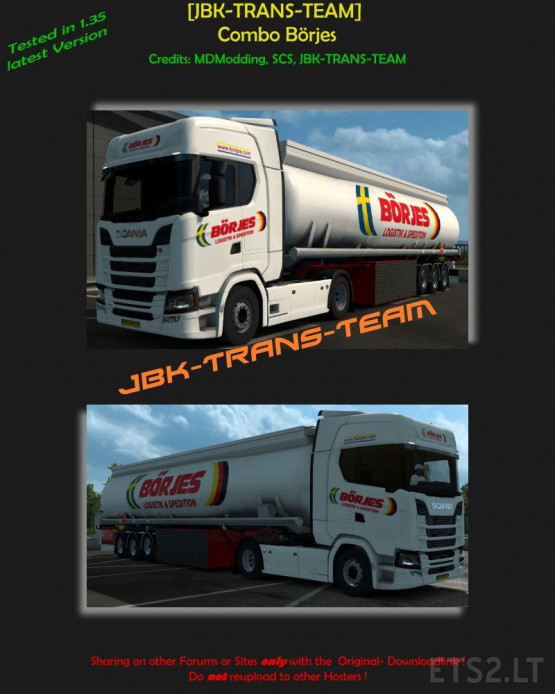 Credits: JBK-TRANS-TEAM, MDModding, SCS
Trailer(s):
– You need: Cistern Fuel from MDModding
– Truck: Scania S NG Highline
Skins:
– JoachimK
—
Tested in:
1.35.xxx Errors or Problems? contact (ed) jbk-trans [dot] eu
—
Eigenschaften Trailer:
– Owned, Purchasable ONLY, Advanced coupling, Animations brace, Animation cables
***You don´t need a Password, put in your Modfolder and activate***
—————————————————————————
THIS MOD IS LICENSED UNDER A CREATIVE COMMONS
ATTRIBUTION-NONCOMMERCIAL-NODERIVATIVES 4.0 INTERNATIONAL LICENSE:
https://creativecommons.org/licenses/by-nc-nd/4.0/
—————————————————————————-
ATTENTION / ACHTUNG:
Sharing on other Forums/Sites only
with the Original-Downloadlink !
DO NOT HOST ON OTHER SITES/SERVERS !
DO NOT REUPLOAD !
ALL OUR MODS FROM US HANDMADE. NO OTHER MODS ARE USED / COPIED / CHANGED FOR OUR MODS.
WE STILL USE OUR SEARCHES AND PERMISSIONS FROM THE COMPANIES AND AUTHORS:
WE ARE AGAINST MOD-STEALING !!!
Credits:
JBK-TRANS-TEAM, MDModding, SCS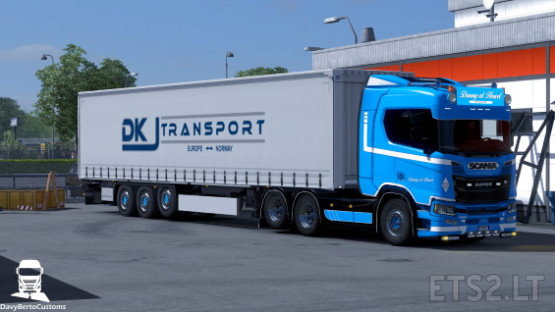 Truck:
Skin for Scania R by SCS,
Works only on nomral cab,
Lightbox texture included,
Trailer:
Skin for Krone Profiliner ( Krone DLC required )
Respect my work, if share keep the original link,
Follow my page for more awesome skins:https://www.facebook.com/DavyBertoCustoms/
Enjoy!
Credits:
DavyBerto
DOWNLOAD 2 MB

– Truck and trailer are standalone
– Unique trailer model
– Low poly but Great quality
– AO baked on all model
– Full Lightmask
– Interior Full Custom
– Trailer ownable
Credits:
TbL 3d Truck Custom
DOWNLOAD 200 MB

– Truck & Interior and trailer are standalone;
– Unique Kogel model;
– Great quality;
– Airbrush drawing by hand;
– AO baked on all model;
– Trailer ownable
Credits:
.TbL 3d Truck Custom
DOWNLOAD 343 MB
A pretty large mod for a skin but all skins including chassis textures for ALL skins are 4k ,everything else ( if there really is something else ) remains for you to discover (but the screenshots are pretty obvious), enjoy!
These mods are (and will be) always free, but if you would like to keep me more up at night (or like these mods, or whatever other reasons) you can help me by donating at PayPal.Me/VandallRTR , thanks.
PS: ANY other links besides this one (under the name Vandall RTR on Steam or tyb33rk on mods.lt) posted here is mod stealing so please respect my work and don't copy, edit or reupload it, thanks again.
Credits:
tyb33rk, SCS, Flemming V.
DOWNLOAD 139 MB