Skin Pack of Brus Transport,
Mod includes:
Scania R 2016 skin,
Volvo Fh 16 2012 skin,
Krone Profiliner (DLC Krone) skin,
Krone Megaliner by Sogard skin,
Scania:
Required low deck addon by Sogard
Volvo:
Required Low deck addon by Sogard
Lightbox texture included
Respect my work, if share keep the original link,
Follow my page for more awesome skins:
https://www.facebook.com/DavyBertoCustoms/
ENjoy!
Credits:
DavyBerto
DOWNLOAD 6.5 MB

HD quality (4096/4096px) Skins for own trailers and truck. There is Scania R 2009, Mercedes New Actros 2014, Renault T. + own trailers. (tested on 1.35.x/1.36.x).
If You want to add it to AI traffic: https://sharemods.com/f5vghuwjj34c/DifferentSkinsAI.scs.html
Credits:
Papa Smurf – ETS2 skins
DOWNLOAD 945 MB
Black and white Scania Topline skin and a matching Krone Profi Liner skin
Krone DLC is needed in order for this mod to work
Credits:
devour
DOWNLOAD 133 KB
Mods needed
RJL Scania R & Streamline
viewtopic.php?t=177963
SCANIA Timber Tandem (have below combo skin)
https://sharemods.com/87go6vwcizx2/SCAN … m.rar.html
Trailers – SCS Rigids by Teklic
viewtopic.php?t=273542
Recommended mods
50k-addons and wheels
viewtopic.php?t=246467
viewtopic.php?t=183178
[powerkasi] Light & Accessory pack
viewtopic.php?t=184720
[powerkasi] Scania RS Addons
viewtopic.php?t=180594
Note:The truck configuration i have takes damage when go up/down steep hills so drive safe 😀
Credits:
Lost Virtual
DOWNLOAD 2 MB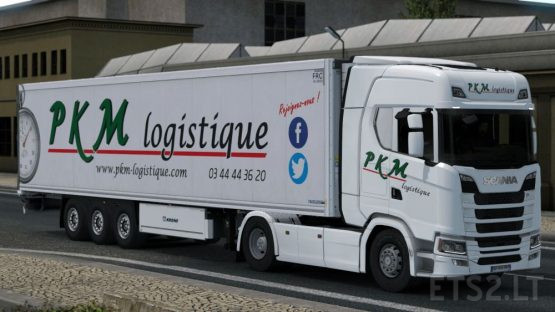 Combo PKM Logistique for Scania S and Krone CoolLiner
To achieve exactly the same truck as the actual company, you can also download this mod created by IJS : https://steamcommunity.com/sharedfiles/filedetails/?id=695738881
RESPECT MY LINK PLEASE
Credits:
HappyWoOlf
DOWNLOAD 517 MB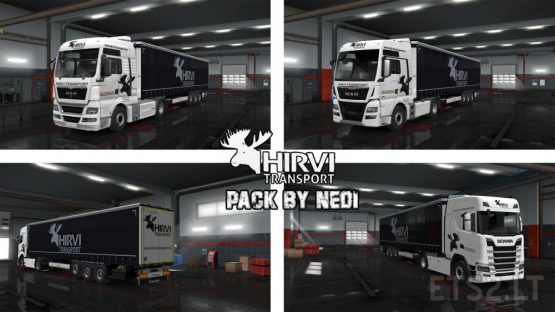 Changes:
-MAN TGX Euro5 (new)
-MAN TGX Euro6 (new)
-Scania S (painting corrected)
-Krone Trailer (painting corrected)
All modes in one scs file now.
Required: Krone DLC
Tested Version 1.35
!!!Please keep original download link!!!
Company Info: www.hirvitransport.hu
Have nice Driving
Credits:
Nedi
DOWNLOAD 772 KB