This combo pack was designed only if used with Flemming V's Tandem chassis otherwise you will have messy side skirts. In the rest, everything see on the screenshots are included (mirror skins,tandem skin,etc.).Enjoy.
Credits:
tyb33rk, SCS,Kajeena,Flemming V.
DOWNLOAD 76 MB
Edbergs Transport AB skins by scaniakungen730
Update for version 1.33.x with ownable dolly trailer
Follow my IG: @pi.etsv8
Mod needed:
-Scania RJL
-Ekeri semi trailer by kast
-Ekeri tandem addon trailer by kast
-Lightbox by powerkasi (powerkasi.Scania.RS.addons.1.2)
Do not re-upload this mod please!
Credits:
Ekeri by Kast, SCS, RJL, 50Keda, powerkasi(alias J.Snow)
DOWNLOAD 31 MB
Tommy Nordberghs skin combo for ekeri.
Tested in 1.33.x with ownable trailer.
Recommended mods:
Ekeri semi trailer by Kast
Ekeri tandem addon by Kast
Scania Next Gen tandem addon
50k_addon
My facebook page:
https://www.facebook.com/Junthon-TransportLackering-AB-2181267491899732/?ref=settings
Instagram:
addyv8.ets2
***PLEASE DO NOT RE-UPLOAD THIS MOD***
Credits:
AddyJ
DOWNLOAD 103 MB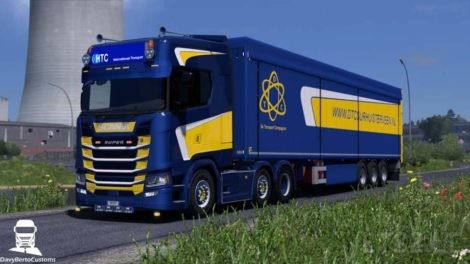 Skin for Scania S by SCS,
Works only on Highline cab,
Made for 6×2 midlift chassis
Metallic colour,
Lightbox texture inlcuded,
Kraker trailer skin included
Required mods:
Big Lightbox Scania NextGen S&R V1.2,
Kraker Walkingfloor trailer V2.0.2 by Kast,
Respect my work, If share keep the original link,
Follow my page for more awesome skins: https://www.facebook.com/DavyBertoCustoms/
Enjoy!
Credits:
DavyBerto
DOWNLOAD 2 MB
Made by krizzy090 still a bit of a W.i.P
uploaded to ets2.lt if it shows up on a other mod site it is stolen
V.1.32x and tested on 1.33
simon loos skin pack for the scania next gen tandem / rigid
recommended to use stock grill!!!
happy trucking
links :
-Scania RJL with/without Kast TANDEM Addon
-Scania 2016RS with/without Kast TANDEM Addon by Siperia/Solutech
information about these ADDONs available here
https://forum.scssoft.com/viewtopic.php?f=35&t=246483
https://forum.scssoft.com/viewtopic.php?f=35&t=249599
Ekeri trailers
https://forum.scssoft.com/viewtopic.php?f=36&t=251460
https://forum.scssoft.com/viewtopic.php?f=36&t=252538
VAK trailers
https://forum.scssoft.com/viewtopic.php?f=36&t=256559
NTM trailers
https://forum.scssoft.com/viewtopic.php?f=36&t=250206
https://forum.scssoft.com/viewtopic.php?f=36&t=253904
Kraker Walkingfloor trailers
https://forum.scssoft.com/viewtopic.php?f=36&t=233975
Credits:
krizzy090
DOWNLOAD 9 MB
This is skin combo for Scania R 2016
Work great in v1.32.x with ownable trailer
Mods needed:
Ekeri semitrailer by Kast
Ekeri Tandem addon by Kast
Ekeri Tandem addon for Scania Next Gen
Light Sign:
https://forum.scssoft.com/viewtopic.php?f=175&t=263015
Find any bugs please contact me:
[email protected]
IG: addyv8.ets2
***DO NOT REUPLOAD THIS MOD***
Credits:
AddyJ
DOWNLOAD 92 MB