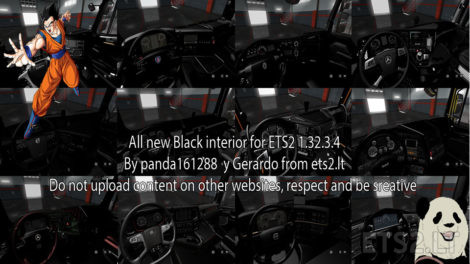 from new versión game, black interior from all trucks
Credits:
panda161288 & ɢӘЯΛRĐΘ ‼
DOWNLOAD 10 MB
Replaces the standard salons. Changed the intermittent wiper. Test on version 1.30.
Credits:
EmRe123; diman26; Ghass72; pinkfloyds; KHAOS-XX; Panda161288; OveRTRucK; unicorn0007; furkan61; piva; Kirtok.
DOWNLOAD 34 MB

Truck Tables by Racing
– mod contains truck tables for Daf XF 105, Daf XF Euro6, Iveco Hiway, Man TGX, Renault Magnum, Scania R & Streamline,
Scania S & R, Volvo FH 2012
– mod also support Scania RJL, MAN by Madster and Volvo FH 2012 by Ohaha. To work for other modding trucks, just add correct
definitions
– table for Iveco Hiway work only with interior from my mod Iveco Stralis XP & NP by Racing. Original model don't have "set_dashbrd" node.
– if you want to change color of leather or carpet material, you can choose texture from /vehicle/truck/upgrade/interior_set/share/textures
rename it, and use it instead of original file. You can also prepare your own texture.
– required cabin accessories dlc
– tested on ETS 2 ver. 1.30
– credits: Racing, SCS Software
Available table configurations in actual mod version:
Daf XF 105: short and long table
Daf XF Euro6: short and long table
Iveco Stralis Hiway: short table
Man TGX: short and long table
Renault Magnum: short and long table
Scania R & Streamline: short, long and high (with drawer) table
Scania S & R (2016): short table
Volvo FH 2012: long/high (with drawer) table
In next versions of this mod i will add tables for rest of the trucks, but i don't plan to add every variant to every truck.
Mod was tested on ETS2 1.30 x64 with DirectX
Credits:
Racing, SCS Software
DOWNLOAD 660 MB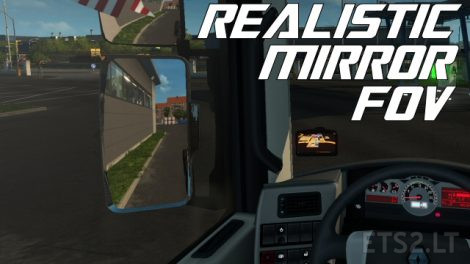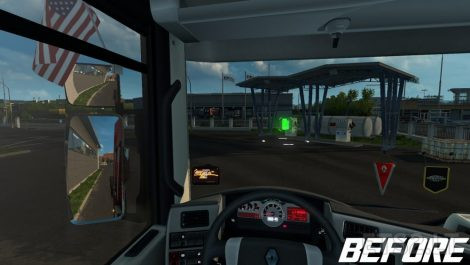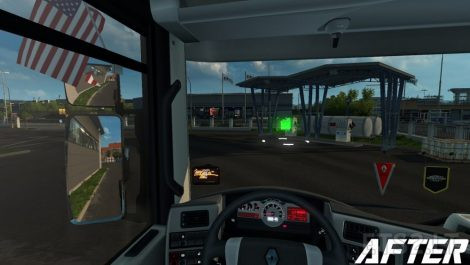 Due to popular demand, the Realistic Mirror FOV mod has been brought over to ETS2!
This mod adjusts the Field of View for the main mirrors on all trucks to a more realistic setting. Small (sub), side, and front mirrors have been left unmodified.
This version for ETS2 has a slightly higher FOV than the ATS version to account for the convexed mirrors European trucks have.
Version game: 1.25-1.30x.
Credits:
TruckerKid
DOWNLOAD 41 KB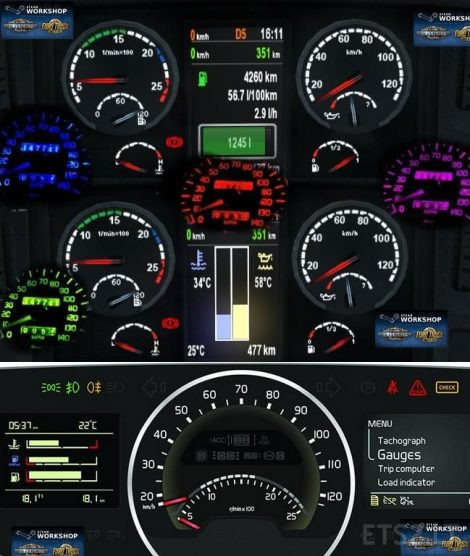 New interne truck lights
For all trucks tested in v1.30
Enjoy and thanxs
Credits:
joelmart,scs
DOWNLOAD 30 KB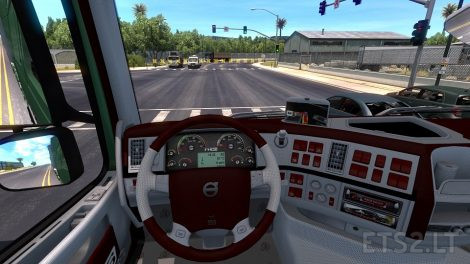 Assembly of interiors. Replace all standard interiors. Tested on version 1.28 of the game.
Credits:
The authors of the interiors: LazyTrucker; Boris Lozac; OveRTRucK; Caeszar40i; pa!nterr116; Bobi27015; SinanKaptan; Braxton; Nick; Gile004; Leipziger; akin koeln(Giga-Mods).The author of the Assembly: Kirtok.
DOWNLOAD 8.9 MB