Skin Lafarge for IVECO Hi-Way truck
Tested 1.28
Credits:
@ntonio
DOWNLOAD 5 MB
This is the mod of the distribution center of ladybug number 13 in Koszalin.
Credits:
Adino
DOWNLOAD 15 MB
Blue Racing Skin for IVECO HI-WAY. Skin tested on the latest version of game and its working fine.
Respect authors work please do not reupload.
I hope You will like it 😀
Credits:
Kuna_01
DOWNLOAD 21 MB

This pack contains 4 different types of Iveco exclusive skins
I recommend the use with the the mod IVECO STRALIS XP & NP By RACING.
Credits:
FABRIGALLA
DOWNLOAD 2 MB

1.Tested 1.28.xx
2.For Iveco HiWay works with mods
Textures:
1.Mihnea [Soldori Trans Skin]
Software used:
1.Photoshop CC [Textures and skins]
Credits:
1.Mihnea [Soldori Trans Skin]
Respect link please, thank you.
Credits:
Mihnea , SCS Software
DOWNLOAD 80 KB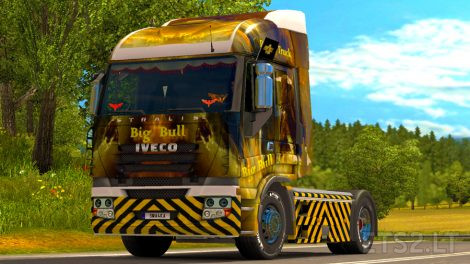 There is not the manifest
Ver: 1.27; 1.28
Credits:
Pauke 2004
DOWNLOAD 3 MB