Mercedes Actros MP4 Hankook Competition Truck skin for all cabs.
– NOT ALLOWED TO UPLOAD THIS SKIN ON OTHER SITES!
– RESPECT CREDITS AND AUTHORS LINK!
Credits:
Skiner
DOWNLOAD 156 KB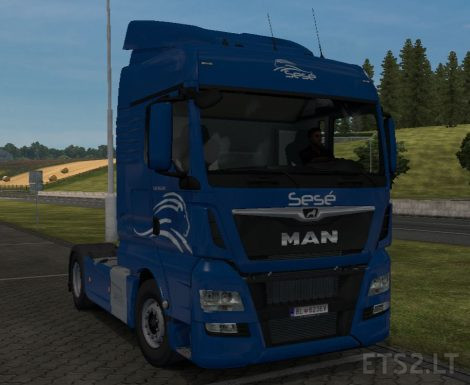 Skin for MAN TGX by Madster
Working on 1.32-1.35
Credits:
Jack Johnson
DOWNLOAD 113 KB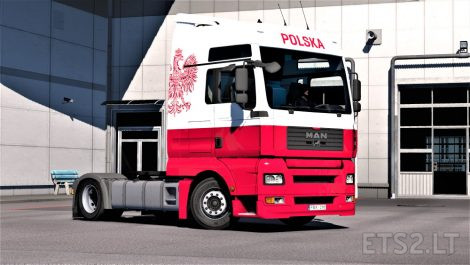 This is a simple 4K skin I made for my Polish friends, inspired by a real TGA!
Tested on 1.35 DX11.
Happy trucking! 🙂
Credits:
MADster, CobraBlue6, TheNuvolari
DOWNLOAD 297 KB
This mod adds re-paintable skin to your SCS Man Euro 6 trucks. Trucks carry the RoadStar logo, a fictional label.
This mod is for those who want all corporate tools to have a specific color and a specific company name.
Man Euro 6 is set up for all cabins and axles.
Tested 1.35.Xs
Credits Tekteker Haydar
—————————-
Bu mod, SCS Man Euro 6 kamyonlarınıza yeniden boyanabilen skin ekler. Kamyonlar kurgusal bir şiket olan RoadStar logosunu taşırlar.
Bu mod, tüm kurumsal araçların özel bir rengi ve belirli bir şirket adına sahip olmasını isteyenler içindir.
Man Euro 6 tüm kabin ve dingil çeşitleri için ayarlanmıştır.
Yapım: Tekteker Haydar
Credits:
Tekteker Haydar
DOWNLOAD 206 KB
Yeah, I know that there are 100000000 Waberer's skins out there, but there isn't a public one for Madster's TGA that I'm aware of. It's pretty basic, but at least it has the correct colors and a logo! 😉
The trailer seen on the second picture is the Krone Megaliner by Sogard3.
Made it on a 4K template.
Suitable for XLX and XXL cabs.
Happy trucking! 🙂
Credits:
TheNuvolari
DOWNLOAD 21 MB
Changes:
-Added support for Man TGX.
Pak skins of Russian companies for your trailer (25 pieces).
Autonomous.
The following models are supported:
-IVECO Stralis HI-WAY;
-IVECO Stralis;
-DAF XF;
-DAF XF Euro 6;
-Man TGX.
Attention!!! The type of skins presented in the pack may change to version 1.0.
-Ashan;
-Eldorado;
-M Video;
-Perekrestok;
-Pyaterohka;
-Metro;
– Ikea;
– Carousel;
-Sportmaster;
-Post of Russia;
-Magnet;
Dixy;
-Obi;
-Lenta;
-Hoff;
-Your house;
-Furniture of furniture on March 8;
-Billa;
-O'Key;
-Leroy Merlin;
-Read-city;
-Artis;
-Anderssen.
+2 skins of closed companies:
-Technosila;
-Old Hottabych.
P.S. When distributing, please leave copyright links.
Credits:
Mr.Fox
DOWNLOAD 3 MB