Patrick v.d. Hoeven skin Scania T,
Works only on topline cab,
Reccomended configuration like in photo,
Follow my page for more awesome skins : https://www.facebook.com/DavyBertoCustoms/?ref=bookmarks
Respect my work, if share keep the original link,
Enjoy!
Credits:
DavyBerto
DOWNLOAD 946 KB
Skin Scania For Scania 4
Test in version 1.27
Please do not upload or edit without permission
Credits:
Dulyawat(MRT)
DOWNLOAD 288 KB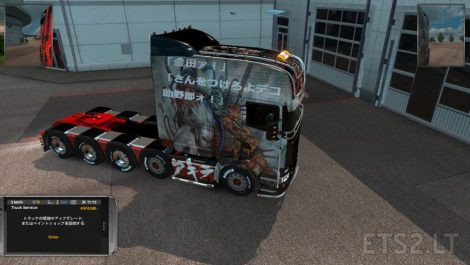 The production time is 2016/04. We are not checking with the latest version. I will report it when I can check it.
I made it for personal use, so the quality is low.
Credits:
Tommy_Turing
DOWNLOAD 21 MB

Tested on 1.27!
New skin only for Scania RJL T from company Vlastuin. Powerkasi Trux Light Bar definition for Scania T roof included.
Recommended mods
– [RJL] Scania T Mod
– [powerkasi] Scania RS Addons
– [powerkasi] Light & Accessory
– [abasstreppas] lights
– [50keda] Wheels Pack
Specially created for
– Topline cab
– 4×2 chassis
!!! Please don't edit and reupload without my permission !!!
Enjoy 🙂
Credits:
Roman71
DOWNLOAD 320 KB
Skin is only for Scania RJL Longline 6×2 Long.
Credits:
RJL, Chola97
DOWNLOAD 21 MB
hello guys, this mod skin for scania R 2009
tested in mys ets2 version 1.24 – 1.27 work fine
"wonderful indonesia"
+ please download if you like
+ share to your friend
– don't reupload
thanks for attention
best regard :
Credits:
D 111 JOS
DOWNLOAD 7 MB