Skin pack (Order of the temple) for all SCS trucks, game version 1.26.xx, respect original link, thanks.
Credits:
Salsambo
DOWNLOAD 20 MB
Skin for RJL's Scania R (v.21)
made especialy for 3 axle scania R topline
some of the mods used for my truck as shown in the pictures;
-Scania R S v2.1 by RJL
-Abasstreppas wheelpack 3.0
-BKC Accessory Pack
-Hella Double Burners by abasstreppas
-abasstreppas Hella Auxiliary light pack 1.0
-Small Lights with Turn Signals by DNK
-DAF XF 105 by Stanley v 1.6 (tyres)
**feel free to share but respect the author and the downloadlink**
Credits:
Rits
DOWNLOAD 21 MB
This is the Scania S Series Custom Skin. Please do not re upload the skin.
My Facebook Page – https://www.facebook.com/MTGDMediaBingo7610SkinsAndPhotographs/?skip_nax_wizard=true
Credits:
Bingo_7610
DOWNLOAD 21 MB
Skin for Scania RJL John Corneth Int. Transport
real texture
tested on v1.26.5.1
skin lightbox for highline and topline
°°°°°°°°°°°°°°°°°°°°°°°°°°°°°°°°°°°°°°°°°°°°°°°°°°°°°°°°°°°°°°°°°°°°°
I am not a modder and even a skinner
and not obliged nobody download my mod
Credits:
Zoso
DOWNLOAD 6 MB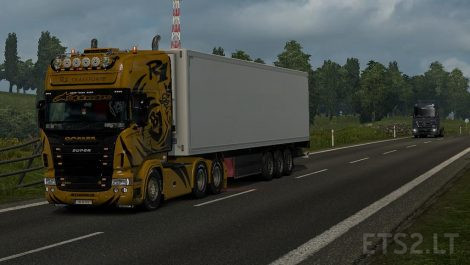 Skin maded for a scani RJL v2.1
respect authors work please do not reupload
Enjoy!
Credits:
Alexandar Lone Wolf
DOWNLOAD 315 KB
Sweden Edition skin for RJL Scania 4 series that I've made using ETS2Studio
Best results if you use powerkasi sideskirt
You are welcome to edit the skin and reupload as long as you include me in the credits.
Do not redistribute this mod UNLESS you use the original sharemods link OR if you have edited it and put me in the credits.
Enjoy the mod!
Credits:
RJL, ETS2Studio, FuraFemDagarEtteSovit
DOWNLOAD 22 MB