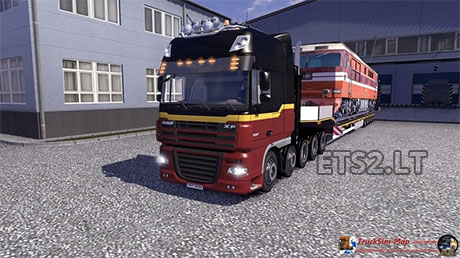 Here you will gain a DAF – 10 x 6 heavy duty
NOTE: The initial purchase of the truck at any time with all chassis and cabs, chassis and cab afterwards can not but be changed.
Important information!
The DAF 10×6 is ONLY defined on the standard interior, left-hand drive.
Additional Interiore (UK or exclusive) can (if available through fremdmods) lead to crash when dialing.
Foreign Interiore (standard) function when the stand after the DAF in the mod folder.
Wheel selection:
If you want to obstruct other than the ori SCS Steel wheels, (not always) it to the first rear axles (front) to crash.
Trick:
Choose a different chassis (4×2 or 6×4), the desired gears installed behind and then changes back to the 10×6 chassis.
Then the selected wheels are installed there.
A Subsequent change the cabin (ie after the purchase) in the workshop is not possible.
So you should you consider at the outset whether you ne A, B or C cabin selects the purchase.
Or three trucks you put it in the game and then has the choice in the truck manager.
Coming soon:
The head (slightly noticeable on dark colors) on the left side has been removed in the coming BDF package.
Tank-framing at the rear building and the ladder on the rear building are next BDF package
chrome or matt aluminum. (Proposed by Gerd and is accepted)
License:
TruckSim TruckSim Map of MODS is under a Creative Commons Attribution-NonCommercial-NoDerivs 3.0 Unported License.
Based on a work at Download Only the original link from TSM (uploaded.net).
Permissions beyond the scope of this license can be obtained under http://www.trucksim-map.de
This mod may only be charged on the offered download links!
The mod may not be offered to other file hosters!
Authors: Streetsurfer1962, Pathfinder
DOWNLOAD 12 MB