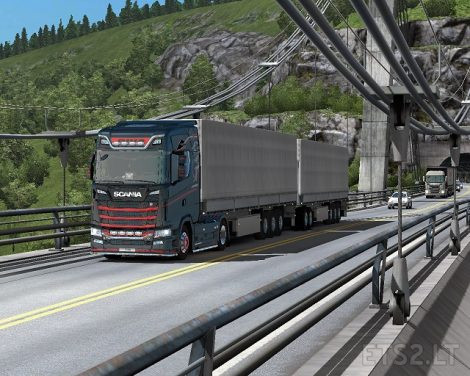 Dolly from ATS, trailer model reworked by AlexeyP
This mod add dbule trailer in your jobs. For fans only
Not so easy driving on narrow curves, take a job and finish it.
SCS default trailer Schmitz Universal with rear hook to connect dolly and next trailer.
All skins are SCS default, if you don't change trailers defaults skins.
BE WARNING. You may not take a job and finish your job on some small warehouses.
So this mod in NOT compatible with WOTr online jobs.
In some cases you can coupling trailer from trailer side.
If you know, how to find a way to complete jobs on all warehouses, let me know.
Credits:
SCS, AlexeyP, Piva
DOWNLOAD 4 MB [Sharemods]
DOWNLOAD 4 MB [Uploadfiles]