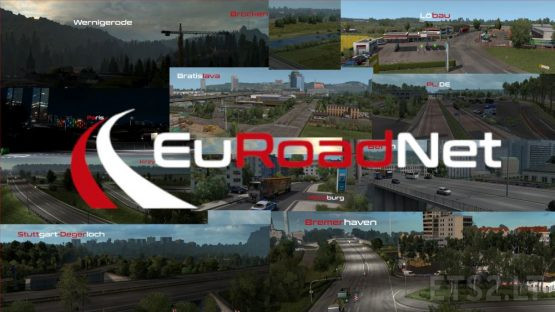 EuRoadNet is an innovative map mod for Euro Truck Simulator 2. We aim to creatively rebuild and extend the original map, adding new cities, roads and more, always full of detail, as true to life as possible and packed with micro innovations.
Germany: Schierke, Wernigerode, Brocken, Flensburg, Husum (invisible), Hoppegarten, Vogelsdorf, Schönefeld, Vetschau/Spreewald, Forst (Lausitz), Löbau, Bremerhaven, Wilhelmshaven. A7 (rebuilt Rendsburg-Denmark), A13 (roadworks), A15, A27 (Bremen-Bremerhaven), A29 (Oldenburg-Wilhelmshaven), A293, B5, B76, B178 (to Löbau), B199, B201. Stuttgart-Degerloch interchange rebuild, Dreieck Bunde.
Poland: A4 (rebuilt to Krzyżowa), A18.
Denmark: Tønder. PR11. E45 Aarhus syd, Svenstrup interchanges rebuild.
Slovakia: Bratislava rebuild.
Czechia: Mladá Boleslav.
France: changes in Paris and near Lille, A2/A23 interchange rebuild.
Belgium: parts of A1/A7/A15 highways rebuild.
Norway: Oslo exit 31 rebuild.
To make it clear, the map requires all current map DLCs (Going East, Scandinavia, Vive La France!, Italia, Beyond the Baltic Sea, Road To The Black Sea) and the current game version to be installed. Compatibility with other maps (especially ProMods, MHAPro, TruckSim-Map) is not supported. However, you don't need to create a new profile.
Credits:
TheNightgames, Nomsn, Topolino, ArikTheBuilder (map), Feliweigi (signs), Kirrou, FLD, 50keda (prefabs)
DOWNLOAD 210 MB