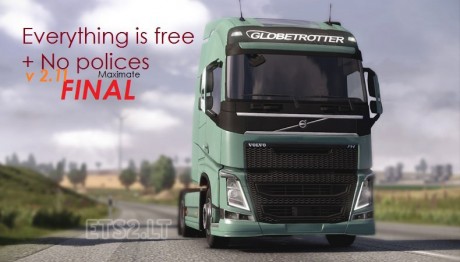 This is all most the same version than the last one. This version is created to game version 1.15 and it's fixes the heavy jobs. If you use old version (which works too) you don't get extra bonuses if cargo is heavy. With this version you get.
New in version 1.0:
– Every jobs are open
– Cancelling a job is free
– No penalties if cargo is damaged.
– Every garage (and upgrade) is free
– No productivity plans
– Hired drivers don't cause any costs
– No delivery overtimes
– Longer time to complete jobs
– Selling a truck gives 100% price back
– Every loans are interest free and payback time is 500-10000 months (so it´s "free")
– Your money can be in negative almost endless
– You does''t get any fines (NO POLICES)
New in version 1.1:
– Ferries and trains are now free
New in version 2.0 :
– The whole mod is recreated to game version 1.14
– You can now drive without sleeping over 110 game hours
– Sleeping time is now 1 minute (before it was over 7 hours)
– Now you get 99% more experience points if you take long, fragile, adr, important, urgent or heavy job.
– Now you get 5000 xp if you park you trailer properly (before 45 xp).
– Max level is now 10000 (before 150)
– You will receive a new level much more easily
– Hired drivers brings you an average of 500 000 euros every time.
New in version 2.11 (this version):
– No penalty if cargo is damaged works now.
– This is final version.
NOTE: Some things costs 1 euro, because game don't understand number zero (new garage, garage update, job abandon, etc.).
NOTE: If mod doesn't work, try to add more "z" letters in front of the name.
Works game version 1.15 but if you have another economy mod you have to disable it.
Author: Maximate
DOWNLOAD 8 KB