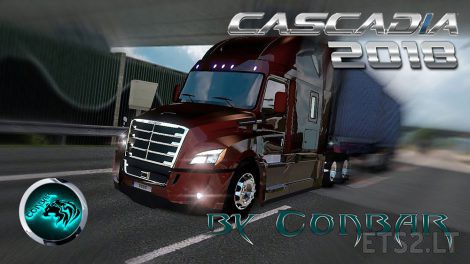 STRCT PROHIBITION REUPLOAD!!!
Truck "FREIGHTLINER CASCDIA 2018" ETS2 1.25.hh
Sold at Dealer: Mercedes
5 types of cabins
Sufficient tuning.
The model is applied – pattern.
Modeling: FELIPE CONBAR
Autonomy: FRANK BRASIL
SOUND: MATHIAS RODOBRASIL
Small correction: groningen263
Editing:
Truck editor: Blender, Photofilter 7, Dxtbmp
Small correction: groningen263
Only a few errors do not affect the game and work truck.
Push! Good Solid and comfortable gruzoik with increased resistance to
the road surface with excellent visibility through integrated into the
cab rearview mirror.
Credits:
Modeling: FELIPE CONBAR Autonomy: FRANK BRASIL SOUND: Skin: LINCOLN BY
VICIADOS do ETS2 Fix by KOKI|Truck editor ——_Blender, Photofilter
7, Dxtbmp
DOWNLOAD 156 MB