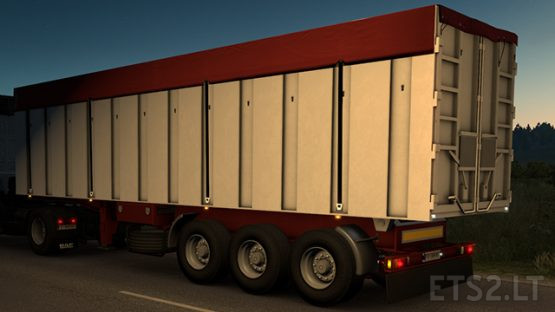 Fruehauf VFK ownable tipper trailer by Soundwave2142 ver 1.0.1:
– Ownable
– A lot of customization (Images only include ones that come with mod)
– Liftable axle
– Trailer cables
– Fully paintable
– Supports mods with custom lights and signs (last screenshot)
Game:
1.0.0 – 1.0.1 was tested on 1.38 and 1.36, most people confirm it does work on 1.39, but I haven't tested myself.
DO NOT RE-UPLOAD! If you want to share mod use original link!
Older versions:
https://sharemods.com/0tj6kvefi9xy/Fruehauf_VFK_tipper_by_Soundwave2142.zip.html – ShareMods | ver 1.0.0 for 1.36 – 1.39
————— CHANGE LOG ——————
Update 1.0.1:
– added more companies support to reduce chance city not having any cargo in mods. (tested on 1.36 promods + Rusmap + South Region + Greate Stepp + PJIndo + Australia + and more minor additions, at this point pretty every city had a cargo)
– adjusted position of trailer hook to better fit the truck saddle
– adjusted position of legs when trailer unhook, they no longer should be through ground
– fixed plastic fenders (curved) being darker than chassis due to wrong texture
——————————————————-
This mod page on SCS Forum
https://forum.scssoft.com/viewtopic.php?f=36&t=290983
I'm going to support this mod for future versions and bug fixes. My next project will be DAF 95XF (euro 2), I'm aiming for good quality.
Please, take a moment to support me:
Rate this mod, give it an award!
https://steamcommunity.com/sharedfiles/filedetails/?id=2263965740
Steam Trade Link | Support me with steam items
https://steamcommunity.com/tradeoffer/new/?partner=177200794&token=SAeMcXMS
Subscribe to my steam workshop
https://steamcommunity.com/id/Soundwave2142/myworkshopfiles/
Credits:
SCS – some accessories and textures
Soundwave2142 – everything else
Credits:
Soundwave2142, SCS
DOWNLOAD 15 MB