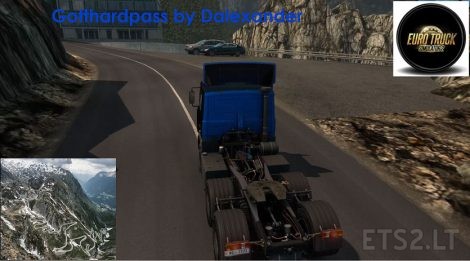 Let me present my new Map mod.
The Gotthardpass!
Now you can decide to take two option:
For a faster Route you cn take the Gotthard Tunnel, but for a trip with a lot of emotions and nature, then you have to take the Gotthardpass.
Enjoy the trip and support me.
Comment (in englisch, german, italian and portuguese) are welocme! Please subscribe me and like.
PT:
Ola galera. Espero que gosta da mapa nova que eu fiz. O Gottardo existe na suica e voce pode escolher se va pra basso o pra cima.
Pegando o Gottardo Pass claramente e um desafio legal pra isso jogo.
Obrigado pelo Downlod e follow me.
IT:
Ciao ragazzi. Spero che vi piace questo mod che ho creato io.
Come voi tutti sapete ci sono due alternativi. Ho prendere il tunel ho salire la montagna. Chiaramente prendento il San Gottardo é per questo gioco molto piu' divertente.
Suguitemi su Youtube e grazie per il supporto.
Credits:
Dalexander
DOWNLOAD 176 MB
https://youtu.be/5PPl_dhvX64