Mini Mirrors for ETS2 1.33.XX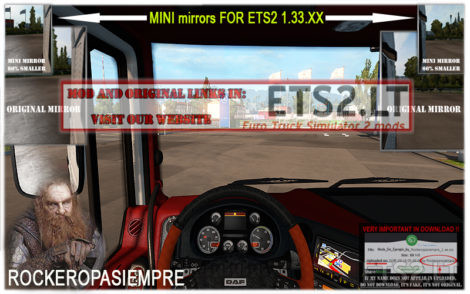 Update of mod.
PROHIBITED TO RESUB THE MOD TO ANY SERVER WITHOUT PERMISSIONS.
Place it in the mod manager, below all, has no conflict with any mod, unless you use another mirror mod too.
Gamelog clean.
Adapted the files to the new version 1.33.XX of Euro Truck Simulator 2.
Tested in version 1.33.XX
Author: Rockeropasiempre
Weight of the file: 90 Kb
regards
Credits:
Rockeropasiempre
DOWNLOAD 90 KB
Popular mods