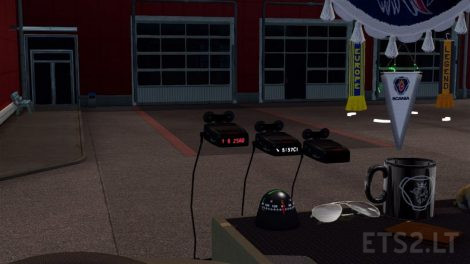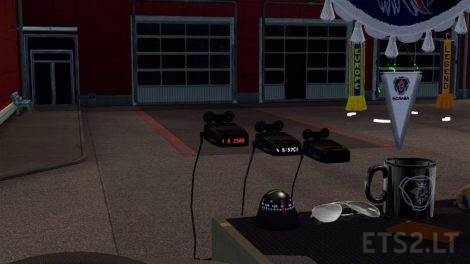 And would like to share with you a small mod to the accessory on the glass in the form of a radar detector (you use in reality, a great thing). 've been going to release, but it was not possible in the circumstances. Hope you like it.
Simple modification that adds to the game model radar detector SHO-ME G800STR.
The functionality of a radar detector in this modification is not represented is just an accessory to the salon.
The model has 3 types of displays (white/red backlight or off), and options with a power cord and without it.
Installs in slots for accessories on the windshield.
To increase options for the location of the slots on the glass you can also install the mod "Addons for DLC Cabin" (by jeyjey-16) or another similar mod.
For mods Renault MAGNUM (knox_xss) and KAMAZ 54-64-65/43-63-65 (koral) there is a separate model for installation in slots "cogps" and "antiradar" respectively.
Tested on version: 1.27-1.30 (work on earlier versions of the game are not guaranteed).
Installation:
Copy the folder mods and enable it in the profile.
ATTENTION!
To work correctly, the mod should DLC "Cabin Accessories"!
No reupload http://truck-sim.club/topic/32768-model-radar-detektora-g800str/
Credits:
il_86
DOWNLOAD 232 KB