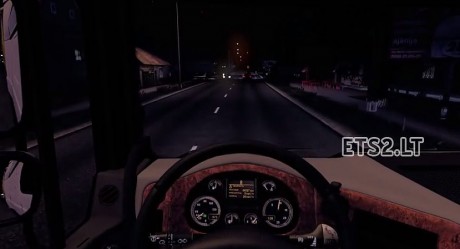 Mod with rebalanced light for a better night driving.
HDR, Color correction (tonemap) and DOF must be set to ON!!!
1) Weather & HDR params setted up for each time interval.
2) Flare remaked.
3) Lightmask for truck & traffic remaked.
4) Different masks for relecting halogen & linz xenon. Light intencity
setup.
5) Lights positions set correctly for each truck.
!!! Additional lights on front & roof grills not working correctly,
don't use them, work still in progress.
6) Some little tweaks, such as traffic car colors (more white & black
cars, less other colors)
Credits:
Base weather mod by Mishuk. Some highway lamps taken from
Atak_Snajpera mod – they are with bigger bulbs, so player can see them
from longer distances. Shared by supric. Uploaded by IlkOyun.
DOWNLOAD 39.9 MB