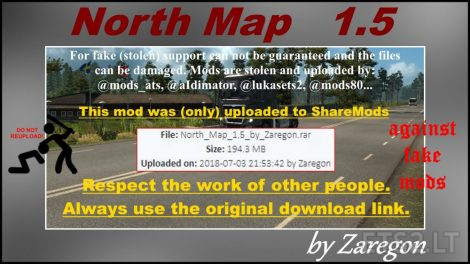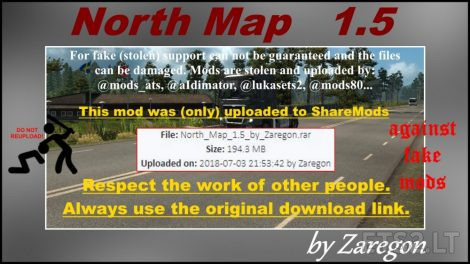 Required DLC:
dlc_east
dlc_north
dlc_fr
dlc it
Innovations:
New City: Arvika (small town)
New City: Kongsvinger (small town)
New Country border (Norway/Sweden)
Zoom corrected
Several small improvements.
Have fun…;).
Credits:
FKSSM (service and gas icon)
Bluetruck (models)
FLD (map assets)
Zaregon
DO NOT REUPLOAD!
Respect the original download link.
Contact/Support:
https://forum.scssoft.com/viewtopic.php?f=32&t=245695
https://0projectmap0.de/viewtopic.php?f=4&t=2
https://www.facebook.com/North-Map-129565704444768/
Against fake mods.
More and more people are ceasing to create mods because they are being robbed. It's a lot of work to make a mod and it takes a lot of time. Before you download a mod, always make sure that you use the original download link. Mods directly from the developers can be found here: https://forum.scssoft.com/ . You can also give feedback here, or make suggestions and thus contribute to the further development of the mods…;).
regards
Zaregon
Credits:
Zaregon
DOWNLOAD 194 MB