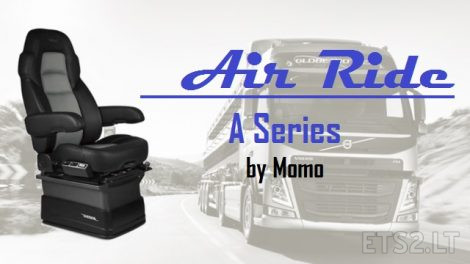 This is the 2nd version of the A series. It is slightly different from the previous A.
CHARACTERISTIC COMPARISON:
A : Extra sensitivity, Low frequency
A2 : Medium high sensitivity. Medium high frequency.
B : High sensitivity, High frequency movement.
C : Extreme sensitivity (may not be realistic), Low frequency
USE INSTRUCTIONS & COMPATIBILITY
1. Make sure you have enabled the "physics camera" in the game option menu. And its bar has been set to 100%.
2. (Optional) Set the "Trailer Stability" to 0%.
3. This mod must be higher than any other physics mod, and higher than truck mods too.
– Compatible with game patch 1.30.x and all DLCs.
– Compatible with all physics mods, all maps, all trucks.
FOR MORE INFORMATION
For more information about the Air Ride Series, please refer to the following page:
USER AGREEMENT
– You are not allowed to re-post by another download link.
– You are not allowed to change the name and re-post.
– Only use my original download link to re-post.
DONATION
Tips are always appreciated.
https://www.paypal.me/aaticha
FOLLOW MY MODS ON FACEBOOK FAN PAGE
"Momo's mods"
https://www.facebook.com/Momos-mods-365686307191461/
OR BOOKMARK THE FOLLOWING PAGE
https://ets2.lt/en/?s=momo
Credits:
Momo, Yuna
DOWNLOAD 19 KB