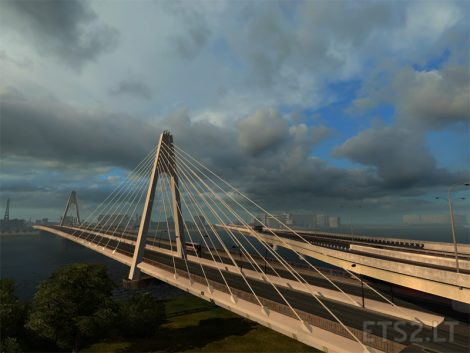 1/3 Scale Tokyo-Yokohama map mod
+New landmarks for Kawasaki.
+ETS2 v1.30 compatible
-Trucks customization crash the game.(SCS original bug from 1.30release version)
-Port of Tokyo and Kawasaki is under building.
-Weather definition reset to default.
Fixed many of obsolete models and materials.
Some of the overwrite type files deleted.
Jazzycat`s AI mod v6.31 compatible.
DLC East,Scandinavia and France required.
Credits:
Koutsu
DOWNLOAD 79 MB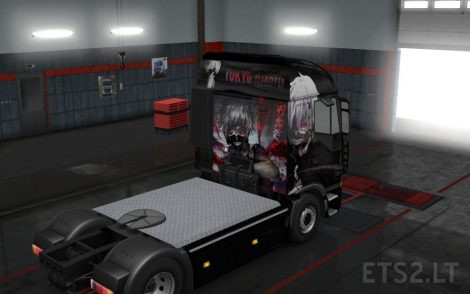 Its my first Skin !
Skin Tokyo Ghoul for Iveco Stralis
Test 1.28
Enjoy 😀
Credits:
FreZiiX
DOWNLOAD 5.4 MB
1/3 Scale map mod of Tokyo – Yokohama.
DLC Going East and Scandinavia require.
Standalone mod.
-compatible
-ETS2 v1.28x
-Jazzycat`s AI traffic
v1.261 small bug fix update for weather settings.
-Original climate set for Tokyo area.
-weather definition/texture adjusted.
and add a New Skybox.
It appears 18:00-18:30. 1/3 rate.
Credits:
Koutsu
DOWNLOAD 71 MB
TokyoBayshore 1.28x compatible.
This Version Improves AI realistic.
All AI`s License Plates replacing Japanese style.
Taxi AI (Toyota Crown Comfort)add and spawn at Tokyo.
Japanese Police AI add.(Toyota Crown Athlete)
HINO Selega has new Skin and models for JR Bus Kanto.
Jazzycat`s AI compatible(5.6.7)
Midnight time traffic adjusted.
Credits:
Koutsu
DOWNLOAD 58 MB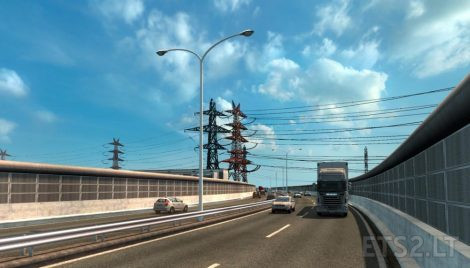 Description:
1/3 scale Tokyo – Yokohama map mod.
1.27 compatible BETA version.
Many part of scenery is not completed yet.
-Correct some prefab routes.
-Shutoko Yokohane Route added (currently developing)
-Traffic lights visibility improved.
Credits:
Koutsu
DOWNLOAD 51 MB
1/3 scale Bayshore route of Tokyo-Yokohama map mod.
-Compatible for ETS2 1.26
-detailed gantry cranes for Tokyo
-additional Japan`s unique Bus Traffic "S`ELEGA"
1 year anniversary of development.
Thank you for your support!!
Credits:
Koutsu
DOWNLOAD 53 MB