Volvo FH16 2012 Skin Custom by AxelSAN
Tested on game version 1.26
Please don't re-upload!
Credits:
AxelSAN
DOWNLOAD 1 MB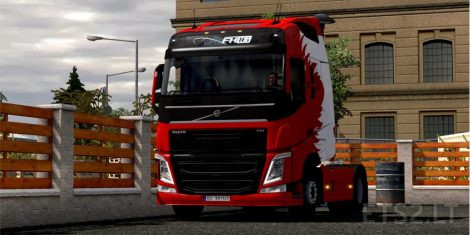 This is a new Paintjob for Volvo 🙂
Take it and have fun !
Tested on 1.26
Credits:
AntyMyjkowskiTeam
DOWNLOAD 223 KB
It's volvo vnl 670 skins for one of my friend's tattoo shop.
Credits:
Grinder
DOWNLOAD 1.35 MB
Volvo FH16 2012 Dark Interior
Tested on last version. Work super 😀
DARK DARK DARK DARK DARK
ENJOY
Credits:
Gile004
DOWNLOAD 0.7 MB
Volvo FH16 2009 Light Brown Interior
Very nice interior for Classic Volvo FH16 2009
Light brown interior.
ENJOY
Credits:
Gile004
DOWNLOAD 1.6 MB
Volvo FH2012 "Vive La France " Skin for France DLC
it is nice to use for France routes…. enjoy
Credits:
DAFDRIVER
DOWNLOAD 5.4 MB