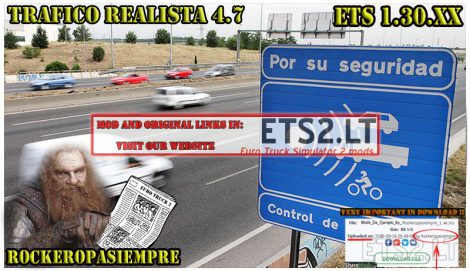 Update of mod.
PROHIBITED TO RESUB THE MOD TO ANY SERVER WITHOUT PERMISSIONS.
General Specifications of the mod:
– 2 Versions inside the rar file. One normal, and one that does not include sounds (NO EXTRAS). Choose one of the 2.
– Mods manager: Always place on top of any AI traffic mod you have.
– Multitude of different colors for AI cars. Thanks CIPINHO.
– Increase in overall volume of traffic on all roads.
– Less patience in the behavior of AI drivers.
– Descent of police cars
– Compatible with all maps and Dlc's of the game. (Going East, Viva la France, Italy, Heavy Cargo, Special Transport)
– Compatible with all AI traffic mods-packs. (Place the mod on top of the IA packs you have).
– Traffic behavior of the AI ​​totally different from that of the original game.
– Complete information inside the downloaded rar. File INFO.txt.
Changes in version 4.7
– Solved the error by which some vehicles stopped in the additions to highways or motorways.
– Diminished pastel colors in green and blue tones, for AI cars.
Author:
Rockeropasiempre
Weight of the winrar file: 129.3 Mb
regards
Credits:
Rockeropasiempre
DOWNLOAD 129 MB