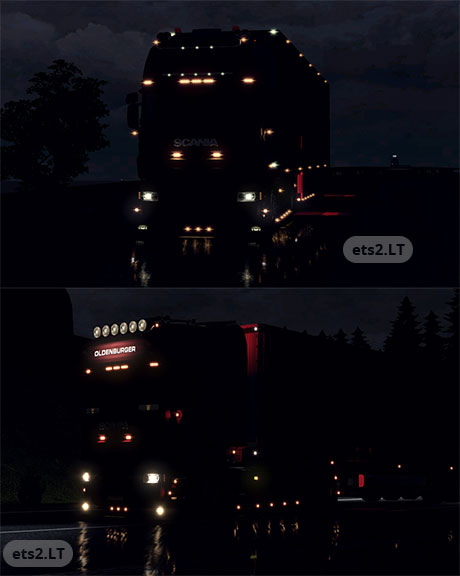 -New led lights ( with reflection )
-New led lights on spoiler
-New led on Mirrors
-Ceusters skin added
-Wedder skin added
-And some changes from previous version
INSTALLATION:
_____________
Copy all files into MOD folder. Thats it!
CREDITS:
________
SCS
Dallyborr
Petrik ( Waeco CLIMA, file is LOCKED, only some adjustment in LCLIMA mod by me. )
ATTENTION:
__________
Red Flare Spoiler is separate lights made by me, without it you want be able to use lights on spoiler of a truck.
Second, if you want to use Ceusters skin, FULL CEUSTERS, there is two folders in Scania mod. AUTOMAT and AUTOMAT CEUSTERS. Just rename that second one into "AUTOMAT" and first one rename into "AUTOMAT NORMAL" for example just to know what is what when needed. SCANIA TRAFFIC OUT.scs mod is needed only if you dont want traffic Scanias to have Ceusters mask.\
Also in zzzScania.scs\vehicle\truck\scania_rcab_2009 there is 3 color textures, "color" is now in use. Other two are for Ceusters and FULL repaint. Rename those textures into "color" when using CEUSTERS or FULL REAPINT. FULL REPAINT is now active by default.
zLIGHTS fix HALOGEN ver2.scs is mod with coplete new flare effect and lights.
DOWNLOAD 20 MB