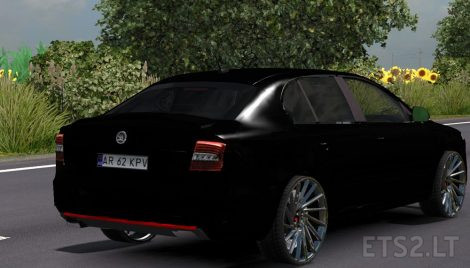 Skoda Octavia RS Sedan 2016 version 0.5
What is new since version 0.1
-Added rear spoiler
-Added bigger wheels
-Added Vossen rims
-Added RS Steering Wheel
-Removed Skoda Octavia text
-Removed chrom from intercooler frame (it is now paintable)
-Corrected any textures
-Added original exhaust pipe (neds a lot of rework though)
-Added original sound for petrol engine (Exterior and interior, 80% finished)
-Added more engines
-The car is now Front Wheel Drive, like in real life
1.8 diesel 184hp (stock)
2.0 tsi 230hp (stock)
Tuning:
Stage1
Stage2
Stage3
Stage4
Custom Build
Power from 184hp to 1000hp
I recommend you to play this car in black color.
It works in version 1.26 (tested), and it may work on 1.27 too.
Works on older versions too (1.24,1.25)
You cand find this car in ANY TRUCK DEALER!
If I will have support, maybe I will continue to work on this car.
!!!PLEASE KEEP ORIGINAL LINK!!!
Credits:
Traian,TruckersMP
DOWNLOAD 28.6 MB
https://youtu.be/k1VS6RD7OTg