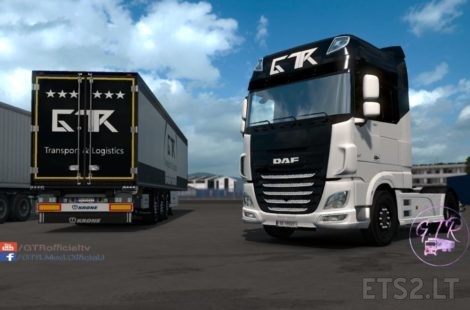 Hello my friends
——-
Skin Pack Transport & Logistics for DAF XF Euro 6 106
and Standard Trailers & Trailer dlc krone coolliner
——-
Tested: ETS2 1.34
——-
My channel on Youtube: http://bit.ly/2tC0Qbt
My page on Facebook: http://bit.ly/2GHx7Y7
——-
PLEASE DO NOT REUPLOAD.
If you want to share it please show some RESPECT and use original link
Credits:
GTR
DOWNLOAD 2 MB
The "A1Demolice.cz" this is a Czech construction company, which also deals with the export or delivery of various goods. In their car park there are trucks such as Tatra, Man, Volvo and Mercedes. Unfortunately, I could not find the photos, and I made the skin for Man and Mercedes from memory, as well, Daf was used instead of the Tatras.
Skin avianable for Man TGX Euro 6(by scs), Mercedes-Benz new Actros, DAF FX Euro 6 and Schmitz Tipper Trailer from MDModder.
For trucks and trailer avianable black and yellow color of skin.
———————————————————————–
PLEASE, DON'T REUPLOAD. USE ORIGINAL LINK!
Credits:
sagittariusjr
DOWNLOAD 320 KB
A slightly polish of the DAF XF 105 skin as well as an addon skin the DAF XF Euro 6 paintjob too with all previous addons included, enjoy.
These mods are (and will be)always free, but if you would like to keep me more up at night (or like these mods, or whatever other reasons) you can help me by donating at PayPal.Me/Vandall RTR. So enjoy and rate if you have subscribed, thanks.
PS: An please respect my work and don't copy, edit or reupload it, thanks again.
Credits:
tyb33rk, obelihnio, abasstreppas, SCS
DOWNLOAD 798 KB
DAF XF 105 (by vad&k) Jan C. Swijnenburg Combo Skin Pack by KoviqkS
– 8K skin textures for DAF XF 105 and Chereau trailer
– 3 different skins of rear mudflaps for DAF XF 105
– 3 skins for Chereau trailer with different rear mudflaps
– Skin for Kelsa Lightbox by obelihnio included
– Skin for Lightbox by 50keda included
– Skin for Wheels Pack by Abasstreppas included
Required mods:
– DAF XF 105 by vad&k
– Chereau Trailer by MDModder
– Kelsa Lightbars by obelihnio
– Addons by 50k
– Wheels Pack by Abasstreppas
– Wheels Pack by 50k
Steam version: https://steamcommunity.com/sharedfiles/filedetails/?id=1686565662
Follow me:
Facebook – www.facebook.com/koviqks
Twitter – www.twitter.com/koviqks
Flickr – www.flickr.com/photos/koviqks
Steam – www.steamcommunity.com/id/koviqks
Enjoy & happy trucking!
Credits:
KoviqkS
DOWNLOAD 4 MB
The legend of the village of Ottoland, yes the DAF F241 Jan.C Swijnenberg is now on Euro Truck Simulator 2.
Do not reupload.
Credits:
Crutu Modding (aka. European Truck Styling)
DOWNLOAD 92 KB
DAF XF105 Black Beige Interior
Work super on 1.34v
ENJOY
Credits:
Miki
DOWNLOAD 2 MB