This is a skin bus for marcopolo g7 1800 dd by modshop.
the mod adds 4 skinjobs to the main mod. they are real Uruguayan companies that work with marcopolo g7.
these are Empresa General Artigas, Turil SA, Nossar, and Nuñez Transporte y Turismo.
Remember that you must have the main mod to work.
give priority over other modifications
Credits:
loquilloW, modshop
DOWNLOAD 48 MB
Mitsubishi Fuso SuperGreat V Japan SkinPacks v1.0
FUCOX
Runtec Corporation
Trial Company, Inc.
VANTEC CORPORATION
King Line Co., Ltd.
Sakai Moving Service Co., Ltd.
TONAMI Transportation Co., Ltd.
Hato no māku no moving sentā
Marinex Corporation
Yasukawa Transport
Ube Industries, Ltd.
Ube-Mitsubishi Cement Corporation
Kawashima Concrete Industry Co., Ltd.
MARUWN CORPORATION
Marukyō Transportation
Kurume transport company Ltd.
SAGAWA EXPRESS CO.,LTD.
Yamazaki Baking Company, Limited
Seino Transportation Co., Ltd.
Taiheiyo Cement Corporation
Sujata Meikuru group
Japan Post Co., Ltd.
HIRANO LOGISTICS
ー In no particular order ー
Credits:
HIRO
DOWNLOAD 5 MB
Vw Touareg for Germany Police Car skin
Metallic color
Credits:
Kaptan Demir
DOWNLOAD 254 KB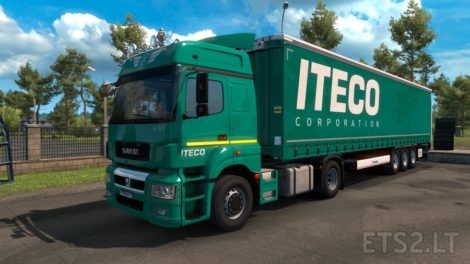 This mod-pack contains the skin of a real transport company, which was made specifically for DLC Baltic.
Kamaz you can buy by downloading the map of the Southern Region and the fix for version 1.33 on the website of the author of the map of VKontakte-ru – free
Please keep the original link.
-Test on version 1.33s
-Enjoy 🙂
Credits:
Blinke
DOWNLOAD 2 MB
Working 1.33-
Tested in beyond the baltic sea dlc!
Working with every skoda superb mod!
Know bugs:
Info 612 3000 (i) letter missing.
POLITSEI letters bad quality
It will be fixed on tmorrow!
Credits:
Golden Modding
DOWNLOAD 1 MB
IN BETA!!
i know all the paint bugs but it will be fixed i realsed it to show it out!
V2.1 Coming out in December!
Thanks For Downloading!
Greetings From Estonia!
Credits:
Golden Modding, Eesti Politsei, SCS
DOWNLOAD 1 MB