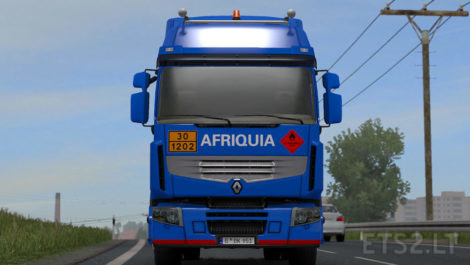 Extract winrar then put the scs file in ↓
My Documents → Euro Truck Simulator 2 → mod folder
Tested 1.33
Respect my work, if share keep the original link,
Follow my page for more awesome skins:
https://www.facebook.com/MohSkinner/
More Images :
https://www.flickr.com/photos/[email protected]/
Credits:
MohSkinner
DOWNLOAD 37 KB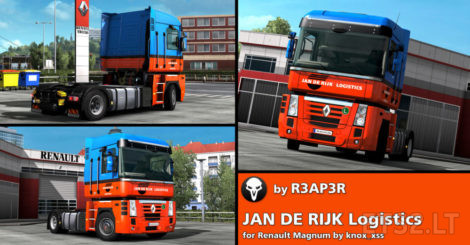 :::4k JAN DE RIJK Logistics Skin for Renault Magnum updates by knox_xss:::
might work with the default SCS Magnum too
Credits:
R3AP3R, Truck by knox_xss
DOWNLOAD 21 MB
Support daf, scania, renualt, volvo, man, iveco trucks
For all version.
#rameshsremakemods
Credits:
Ramesh_lahiru
DOWNLOAD 8 MB
This is a combo skin pack of Momo Logistics for all SCS trucks and owned trailers.
This skin is the winner of a skin making contest held in September – October 2018.
I am not the maker of the skin but the skin maker has granted me the permission to publish. The skin maker name is "Private Person".
Krone trailer skin addon pack is available separately which you can get it from the link below:
Krone trailer skin addon link : (coming soon)
USER AGREEMENT
Although all the intellectual property rights belong to SCS, But please respect hard works of the mod author.
The mod author does not give consent for anyone to:
– Re-post by any other download link other than the given link above.
– Re-post as is, as your own.
—————————————————————————————————–
DONATION (Not required, but highly appreciated)
Any amount (even one cent) of your kindness & support will be greatly appreciated.
https://www.paypal.me/aaticha
——————————————————————————————————-
HOW TO CONTACT MOMO ? :
Unfortunately friends invitations will be accepted on certain circumstances only. However, you can contact me through:
1. The comment section below. (Rude comments will be deleted)
2. Facebook fanpage: https://www.facebook.com/Momos-mods-365686307191461/
3. My Youtube Chanel: https://www.youtube.com/channel/UCEAtYWr0IodkLyO9W4tMbpg/videos?view_as=subscriber
4. My email: [email protected]
Credits:
Momo, Private Person
DOWNLOAD 48 MB
[TR] ARSLAN NAKLİYAT Skin [Çekici & Dorse ]
Arslan nakliyat skin dosyaları çekici , dorse ve sogard low deck modlarında çıkan plaka modu var içerisinde arkadaşlar. 5-6 adet TR plaka ekledim istediğinizi seçersiniz.
Gerekli modlar aşağıda linklerini paylaştım.
Facebook : Adam Steel Transport
Instagram : AdamSteelTransport
[EN]
ARSLAN TRANSPORT Skin [Truck & Trailer]
Arslan transports skin files in attractive, semi-trailer and sogard low deck modes have plate mode in the friends. You can choose to add 5-6 TR plates.
I shared the links below the required modes.
Facebook: Adam Steel Transport
Instagram: AdamSteelTransport
Renault Premium Schumi : https://forum.scssoft.com/viewtopic.php?f=35&t=197443
Low deck Chasis Addon : https://forum.scssoft.com/viewtopic.php?f=35&t=254939
Krone Megaliner by Sogard : https://forum.scssoft.com/viewtopic.php?f=36&t=260235
Credits:
RockweLL
DOWNLOAD 4 MB
FR : La deuxième version du skin pack Mezen arrive et puisque j'ai eu des difficultés avec les skin je vous propose ici une version alpha de mon mod qui propose :
-Renault Premium 430 au couleurs du lycée
-Man TGX ( retravaillé et dispo sur toute les cabines ) au couleurs du lycée
-skins de remorques du lycée ( malheureusement vu que j'ai eu deux trois problèmes avec le modding les skins vont s'appliquer sur les chassis suivant : Krone ( bâchée ), BBR ( porte latérales ), Kaiser ( caisses tôlés ( frigo, ou fourgon ), semi "Porsche" ( fond mouvant ( j'en suis vraiment désolé mais comme je l'ai dit c'est une alpha donc beaucoup de motif auront lieux ))
voila merci de votre compréhension et amusez vous bien avec le skin pack ! ^^
ENG : The second version of the skin pack Mezen arrives and since I had difficulties with the skin I propose you here an alpha version of my mod which proposes:
-Renault Premium 430 in high school colors
-Man TGX ( reworked and available on all cabins ) in high school colors
-skins of high school trailers ( unfortunately since I had problems with the modding, the skins will apply on the following chassis : Krone ( tautliner ), BBR ( side door trailer ), Kaiser ( dry vans trailers ( fridge, or van )), semi-trailer "Porsche" ( moving floor ( I'm really sorry but as I said it's an alpha so a lot of modifications will come ))
Thank you for your understanding and have fun with the skin pack! ^^
Credits:
SCS, Mathonner