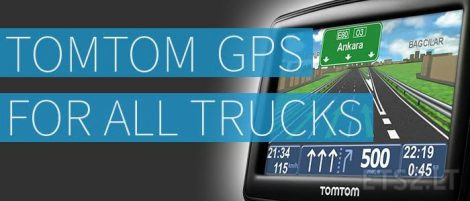 This is the rework of the TomTom navigator mod. I updated to the latest patch, and I make a little rework on this mod. The mod compatible with all standard SCS trucks and also compatible with truck mods. Works with RJL's Scania mods, MADster's MAN mods, Eugene's Volvo FH mod, Davidzoli's MB Actros MP IV. mod.
v1.0
– Changed the GPS background to more realistic
– Added black color variant (optional)
– Added manifest.sii
v1.1
– Now the GPS shows the actual speed limits
– Minor bug fixes
v2.0
– Cleanup (removed some unnecessary files)
– Tweaked materials
– Bug fixes
– Reduced the screen brightness
– Fixed textures
– Fixed compatibility with trucks
– Added a lot of new defs for increase compatility with trucks
Available colors:
– White
– Black
How to use: Extract -> Paste the scs file into your My Documents/Euro Truck Simulator 2/mod folder -> Run game -> Mod Manager -> Enable mod
In game: go to a garage and select the codriver plate /passenger's driver plate/ and choose the GPS. This mod works with RHD trucks! Set to higher priority then your truck mods in the mod manager!
Author of the original mod: ?????? (If somebody knows it, please tell me)
Compatible game versions: 1.25.x – 1.26.x
Rework and update: DI3S3L
Works with older game versions is not guaranteed! Don't reupload to other file sharing sites, please always keep the original download link!
Some screenshots:
https://plus.google.com/u/0/photos/107365077826876362267/albums/6217075904204921537
Credits:
Rework and update: DI3S3L
DOWNLOAD 2 MB Black Variant
DOWNLOAD 2 MB White Variant
https://www.youtube.com/watch?v=MzgNNlKu-Qk&feature=youtu.be