CHANGELOG
____________
Dealer fix
1.35 crash fix
Added it in all dealers
Credits:
BurakTuna24, trzpro
DOWNLOAD 52 MB

CHANGELOG
____________________
1.35 crash fix
Updated dealers, you can buy from all dealers now
Credits:
BurakTuna24, trzpro
DOWNLOAD 50 MB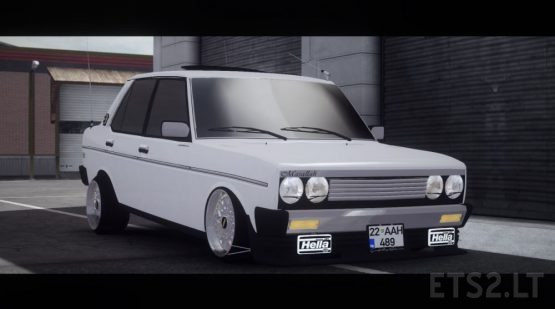 English:
Features:
2 Different Steering Options Are Available.
2 Different Voices Are Available.
RBG foot lighting is available (works with" O " Key).
Various Rim Options Are Available.
RGB lighting is available on the chest(works properly if you make the tool White).
Active Smoothly Running Animations Are Available.
Turkish
Özellikler:
2 Farklı Direksiyon Seçeneği Mevcuttur.
2 Farklı Ses Mevcuttur.
RBG Ayak Aydınlatması Mevcuttur("O" Tuşu İle Çalışır).
Çeşitli Jant Seçenekleri Mevcuttur.
Göğüste RGB Aydınlatma Mevcuttur(Aracı Beyaz Yaparsanız Düzgün Çalışır).
Aktif Sorunsuz Çalışan Animasyonlar Mevcuttur.
Credits:
Berkay Pekesen, Çağatay Aksan, Harun Aras, Hüseyin Şafak
DOWNLOAD 35 MB

This Mod can work at ETS2 Version 1.30 or Above , by using def according to your ets2 version
Available Variant GA,GL,GX and Left Hand Drive or Right Hand Drive
Dont Forget Read the rules at notaped
Contact me
Facebook = Adi Rafudin
Gmail = [email protected]
Credits:
Adi Rafudin
DOWNLOAD 38 MB

CHANGELOG
______________
Fixed 1.35 crash
Fixed material issues
Credits:
trzpro, BurakTuna24
DOWNLOAD 125 MB

TR
ETS 2 – 2013 Mercedes CLS V2 modu (1.35) sürümüne uyarlandı!!
Açıklama: Bilgisayarımda yaşadığım sorunlar nedeniyle yeni modlar çıkaramıyorum bende eski modlarımı yeni sürüme uyarlamak istedim, iyi oyunlar.
NOT: Araç oyunda test edilmemiştir sorun varsa modta bildirebilirsiniz.
-Lightmask
-AO Render
-Kabin ışığı(O tuşu)
-Kaliteli interior
sürüm: 1.35
EN
ETS 2 – 2013 Mercedes CLS V2 Adapted to version (1.35)
NOTE: Car mode has not been tested due to Computer, please let us know if there is problem
-Lightmask
-AO Render
-İnterior light(O key)
-quality interior
version: 1.35
Credits:
Kenan Altan
DOWNLOAD 15 MB