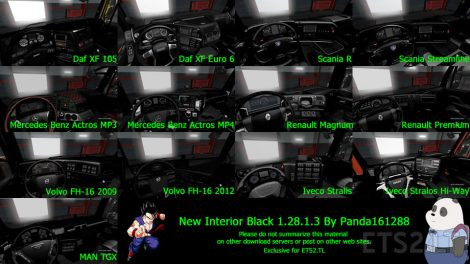 Complement rebuilt black interiors for Euro Truck Simulator 2 for all basic trucks.
And as always respects the material of others, do not re upload to another blog of modes of trucks or other download servers or I pass as the author of this work.
Credits:
panda161288
DOWNLOAD 11.88 MB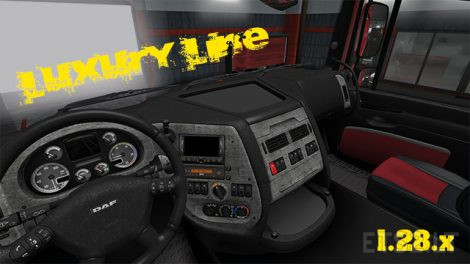 This mod changes the luxury DAF XF 105 interieur to a black and red combination.
I also used grey wood instead of the brown one. It looks very nice to me.
I hope you like it too. Feel free to rate.
Tested with version 1.28.x. Should run with previous versions too.
Credits:
hust3004
DOWNLOAD 114 KB
Interiors for Scania Rjl v2.2.1,
Contain two variants: with the blue vabis steering wheel and with the white vabis steering wheel,
Respect my work, if share keep the original link,
Follow my page for more awesome skins: https://www.facebook.com/DavyBertoCustoms/?ref=bookmarks
Enjoy!
Credits:
DavyBerto
DOWNLOAD 10 MB

Pak interior No. 7 from different authors for the default trucks.
The authors of the interiors: Panda161288, Garry, KiLLer Modding, Monocromo, Gile004, Miki2424, Bronco, furkan61.
Build: Kirtok.
Credits:
Kirtok
DOWNLOAD 38 MB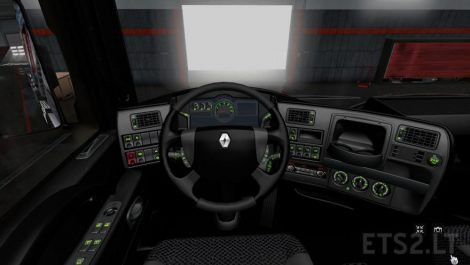 Assembling of interiors for default trucks. Checked on the version of the game 1.27 and 1.28.x
Credits:
Gile004, Anohim, SoLdier, vovangt4, Miki2424, Forever Alone, Sana, MarioBasa2002. Сборка – Kirtok.
DOWNLOAD 12.7 MB
Real textures ( FULL HD ) for Scania R and Scania StreamLine .
All DLC works .
Real gauges and real color of interior
BONUS : Real Mirrors for Scania with a ultra realistic view and very realistic look .
3 version : Matte black (plastic) , painted and chrome.
Version tested : 1.28.x
Credits:
RobertDRN
DOWNLOAD 19 MB