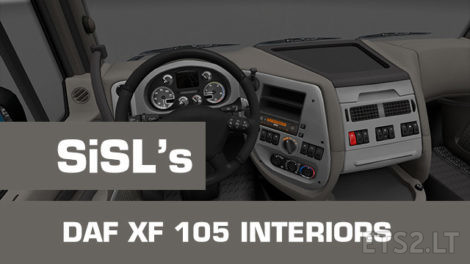 This mod adds 2xDark and 2xMetal interiors to stock DAF XF 105.
Credits to SCS and 50keda for DAF XF.
Credits:
SiSL
DAF XF 105 Leather Interior
Maded for DAF XF 105 by SCS
Tested on v1.32.xx
Enjoy !
Credits:
Dragan007
DOWNLOAD 6 MB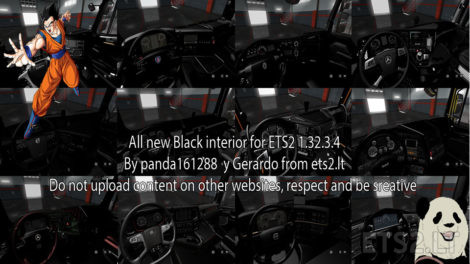 from new versión game, black interior from all trucks
Credits:
panda161288 & ɢӘЯΛRĐΘ ‼
DOWNLOAD 10 MB
Hello i give away an custom interior for daf euro 6, it's the interior from DEN DAF.
Please enjoy the mod and have a save trip
with kind regards
Credits:
gunther and others
DOWNLOAD 62 MB
Daf XF E6 Skin White.Red + Interior White.Black
Skin is for all cabins, support for Daf DLC. Interior is for Facelift Standard interior and standard steering wheel.
Enjoy ! Tested on 1.31.
Thanks to Dragos M for help with photos! (https://www.flickr.com/photos/dragosm/)
Credits:
TheDriver333221, Alexey P for help with interior files
DOWNLOAD 14 MB

NO TRUCK MODEL CHANGED
So this mods will work in 1.31 ( I'll hope 😆 )
This is pack of 3 mods
1 DASHBOARD
My latest dashboard for DAF XF with small fixes
– fixed position of "H" letter on fuel bar scale
– fixed DAF sound volume level. And used new feature, when I can use regular sound file (.ogg) instead of .ogv file
2.SOUND
This is SCS sound, with small fixes for interior sound ONLY
– changed sound volume
– added bass
– changed sound of blinkers, wipers and retarder
I don't like loud sounds.
3.INTERIOR
This is dark interior with fixes of 2 material files.
Credits:
Piva